KENYA JOINED the rest of the world to celebrate freedom of the press this week under a hostile and uncertain environment for the media.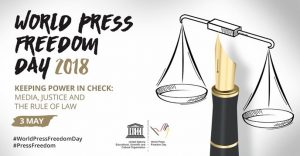 Despite numerous public promises by President Uhuru Kenyatta to safeguard press freedom, the situation has continued to deteriorate as police and senior state officials increasingly get away with physical attacks or open threats to journalists writing on sensitive issues.
The period around August 2017's disputed presidential elections was particularly challenging for the media. But while political tensions have eased, the ability of journalists to report and comment freely continue to be undermined by state officials.
Kenyan authorities should ensure full respect for international law by allowing open reporting and commentary on any issues of pressing public interest. Unless they do, Kenyan media and journalists have more to worry about than to celebrate during this year's World Press Freedom Day.
In South Africa, the Freedom of the Press Report has listed it, as being among the countries with one of the biggest declines in press freedom, dropping four places. It is now being seen as only "partly free".
Recent attacks on journalists do not bode well for press freedom, the South African Human Rights Commission has said.
"The Commission is concerned about attacks on media professionals and notes the recent attacks on journalists during protests in the North West, as well as attacks on journalists and the destruction of cameras and media equipment during the Nedbank Cup semi-final match in April 2018," it said in a statement for World Press Freedom Day which is held on May 3.
SABC journalists were robbed of their equipment while covering the violent service delivery protests in North West last week.
And Kaizer Chiefs fans went on the rampage at the Moses Mabhida Stadium in Durban after their team was beaten by Free State Stars in the Nedbank Cup semifinal match on April 21. The fans attacked security personnel and damaged equipment.
The Commission said these events "do not auger well for press freedom in South Africa".
The United Nations General Assembly declared May 3 as World Press Freedom Day "to raise awareness of the importance of freedom of the press and remind governments of their duty to respect and uphold the right to freedom of expression".
The Commission said it recognised the extreme importance of constitutionally protected press freedom, especially considering South Africa's history of apartheid during which freedom of expression was severely stifled.
"Former president Nelson Mandela, as the first democratically elected president of South Africa, recognised the vital role a free media plays when he said 'a free press is one of the pillars of democracy'," the Commission said.
It also highlighted the importance of a free press which "is able to report on corruption, abuse of power and the violation of constitutionally protected rights within the Bill of Rights".
"The Commission recognises the role of the media and a free press in our constitutional democracy and will continue its efforts to protect freedom of the press and to take active steps to prevent the intimidation of the media."