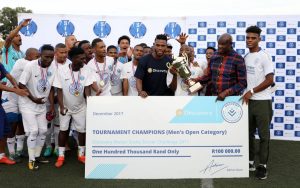 The annual soccer tourney that has already kicked-off the 2018 campaign at the Nike Stadium, Klipspruit (Soweto), has been a hive of activities with La Masia looking forward to open their account today against Meadowlands All Stars. Kick off 3pm.
Last year they pocked a cool R 100 000, floating trophy and gold medals for their effort.
Launched in 2002 the Discovery Walter Sisulu Soccer Challenge, tournament plays an important role in developing soccer  in our communities, whilst making sure that all players are united in achieving a healthier lifestyle.
It is named in honour of political struggle icon and Anti-Apartheid activist utata Walter Max Ulyate Sisulu.
The revered tournament draws top stars, scouts and football administrators country-wide.
According to Westbury outfit La Masia, to them this helps to draw kids away from streets, and rather focus on healthy living, through sport and particularly football.
All the games take place at Nike Stadium, Soweto.