It's a first Chinese Herbal Product Company to trade in South Africa since 2007.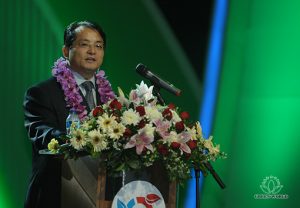 David L. Zhang, vice president of Green World and president of Green World African Region, Green World successively established branches and offices in Johannesburg, Durban, East London and Cape Town, with the business spreading to every corner of South Africa by taking Johannesburg as the center.
This weekend Green World will host the 10th founding anniversary in South Africa on November 18 at the Ellis Park Indoor Arena, Johannesburg from 10am until late in the afternoon.
Entrance is FREE. GRATIS. MAHALA!
Zhang will deliver a key note address to hundreds of guests anticipated.
The event will host founders of the organization from China and other guests from all over the world.
The success of Green World can be attributed to the fact that it operates in 12 African States and has 22 distribution offices on the Continent.
The organisational structure is made up of four quadrants:
Green World: health industry
Hanfang Group: cosmetics
Sinoworld: culture promotion
Golden World: investment
It also conducts its research and distribution in Michigan- USA and Tianjin- China, on Bio-engineering,  Micro-biology, Oncology, AIDS, Nutrition and TCM.
Need to feel active, alive and on top your game visit the event on Saturday.