SAMSUNG PAY, a new mobile wallet app has been launched by the Korean company in South Africa.
Introduced by Samsung, it will be the first of its kind in Africa, that it offers ultimate flexible payment solution that features the benefits of both a physical and mobile wallet to make in-store purchases safer, and simpler.
Available in 24 markets worldwide, this new innovation comes with defence-grade Samsung Knox security platform and biometric authentication through iris or fingerprint scanning, meaning users can have peace of mind that their personal payment information is safe.
Additionally, tokenization ensures that a user's actual card information is never exposed during a transaction, making every payment more secure, using both MST and NFC technology, respectively.
Samsung Pay is currently available for Absa and Standard Bank customers with supported Mastercard and Visa payment cards. Avios credit cards, British Airways credit cards and Virgin Money cards are also supported.
Craige Fleischer, Vice President of Integrated Mobility for Samsung South Africa says "Samsung Pay works almost anywhere you can swipe, insert or tap a card, so as the first country in Africa to implement this, we are hugely excited about how it's going to transform our customers' lives".
Tshipi Alexander, Head of Consumer Issuing at Absa Retail and Business Banking, says, "Making a payment has become so much more than just making a transaction and is now also about the experience.
"We want to make sure that Standard Bank's payment solutions become the preferred choice for digital experiences – whether it be traditional cards, virtual cards, tap to pay, or Samsung Pay, commented Ethel Nyembe, Standard Bank SA Head of Card Issu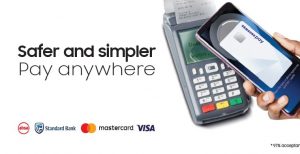 ing.
To start using it, Samsung users should upgrade to the latest software version for their eligible Samsung Galaxy smartphone and simply download the Samsung Pay app from the Google Play store, register or log in to their Samsung account, select a preferred method of verification by fingerprint, iris scan or PIN, scan a debit, credit or cheque card with the camera and verify the card details.
To make payments, users simply launch the Samsung Pay app by swiping up from the home screen or lock screen, authenticate with their iris, fingerprint or PIN, then tap or hold their Samsung device close to the payment terminal.
Because Samsung Pay works on both magnetic secure transmissions (MST) and near-field communication (NFC) point of sales terminals, vendors do not need to change their current point of sale machines to accommodate this breakthrough technology.
Yes, carrying hard cash in these tough times in our country, could be a thing of the past.