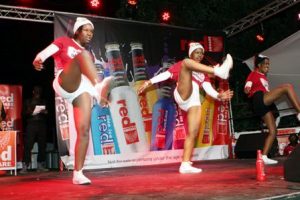 This is because this years' competition is 'gonna' be lit and hectic.
At the media launch recently, groups showed us a glimpse of what to expect: prowess and determination. Its' Game On Buddy!
As a result of overwhelming response by the public, this year the organisers have separated Pantsula, Hip –Hop and S'bujwa by deciding winners each category to pocket a cool R25 000.
Champions of each category will then compete against each other with the ultimate or overall champs adding an extra R10 000 to the prize already won in their grouping.
In 2017 Survivors Crew took home a whopping R60 000 as RedSquare Dance ultimate winners.
"We have come to realise that there are crews that are strong in a particular style out of the three main popular ones.
So we thought let's give them an opportunity to win in what they are strong at and then have category winners compete against each other for a bonus," says RedSquare Marketing manager- Victor Selaelo.
The competition- initiated in 2015- seek to present fair opportunities, encourage talented dancers to take their gift a bit more serious and try to show that they can make something worthwhile from their gift of performance or artistic talent.
As a result, other nationals have been encouraged to also enter the competition.
Group auditions are scheduled to begin March 22 with Hip-Hop Crews battling it out at Europa Groove Lounge in Sunnyside, Pretoria.
Gauteng – mainly Ekurhuleni, Emfuleni (Vaal), Soweto, West Rand, Tshwane and surrounding areas, will follow suit.
This year's entry for individual dancers is through each dancer posting their videos on the RedSquare Dance competition's facebook page- https://www.facebook.com/redsquaredancecompetition
Single dancers with the most likes will be invited to battle-it-out at the final with the ultimate victor taking home R5 000.
Venues and dates can be found on website: http://redsquaredance.co.za
The finals take place May 2017 -Atteridgeville, Pretoria.
As alluded Its' Game On Buddy!