RESIDENTS in Klipspruit' Johannesburg' hijacked a Putco bus and set it alight during a protest on Thursday morning.
The residents are believed to be protesting against the department of education for its failure to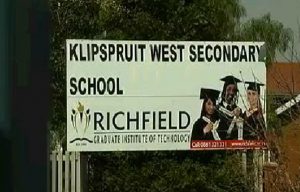 hire a principal at Klipspruit West High School' where they forcefully removed a black principal.
Police spokesperson Lieutenant Colonel Kay Makhubele said that police were monitoring the situation.
"The residents hijacked a Putco bus from the driver and they set it alight."
A video of the burning bus was uploaded on Twitter.
Makhubele said that residents had blocked the K43 highway.
"We will be investigating to see if we can open cases of public violence and malicious damage to property'" Makhubele said.
Last week education MEC Panyaza Lesufi dissolved Klipspruit West High's school governing body after parents disrupted learning at the school' calling for a black principal to be removed and replaced by a coloured one.