What would happen should minister of finance Pravin Gordhan be arrested?
That's a multimillion rand question on everyone's lips, as rumour-mill has it that Gordhan,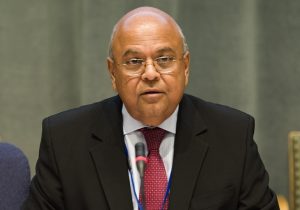 former deputy commissioner Ivan Pillay' group executive Johann van Loggerenberg' spokesperson Adrian Lackay and initial head of the investigative unit Andries van Rensburg, had been ordered to report to the Hawks in Pretoria on Thursday.
As obvious, the Hawks are playing dumb and offering no response.
And the official opposition party DA wants answers, and also described finance minister being "requested to appear before the Hawks suggests he may be informed about possible charges and may face arrest in connection with allegations relating to the Sars 'rogue unit' " as a "major escalation in the "Sars Wars".
DA's David Maynier says said the "only option to get to the bottom of the allegations relating to the SARS 'rogue unit' is the appointment of a Judicial Commission of Inquiry in terms of Section 84 of the Constitution".
When approached for comment Hawks spokesman Brigadier Hangwani Mulaudzi said "no comment".
Daily Maverick, first broke the story.
These startling revelations are an indication that both Gordhan and President JG Zuma are at loggerheads, and this will keep escalating.
At the time of publishing it was unclear if, the abovementioned parties have or had made their way to the Hawks offices.
ANC had not made a comment.
Meanwhile, the rand slid against the dollar on Wednesday morning' extending its sharp overnight losses after possible Gordhan's arrest.