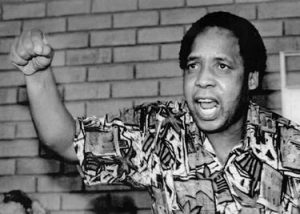 He was giving the keynote address at the Chris Hani memorial lecture in Boksburg' marking 24 years since the anti-apartheid activist and South African Communist Party general secretary was gunned down outside his home.
"We should call a halt to the ravaging divisions within the congress that we' the leaders of the movement' are always happy to take to the public in utter violation of the fundamental principles of the congress and the values it espouses and holds dear'" Gigaba said.
"We ANC leaders are not properly managing internal debates and differences within the ANC'" he added.
Gigaba said this conduct had become so established that there was the danger of a generation of young people growing up within the ANC who would never know the glorious party that Gigaba found when he joined it.
"This misconduct' characterised by a brazen desecration of the ANC' the entrenchment of factions and stubborn unwillingness to hear one another' compromise and accommodate each other's views' has created a situation in which society itself is divided'" he said.
Gigaba said the ANC was the glue that bound society together.
"Consequently if we divide and weaken the ANC' we accordingly weaken the glue that binds our society together. We run the risk of splitting society into different splinter elements."
He said unity was not a commodity that could be traded at an auction to the highest bidder' and neither was unity a mechanical process that could be fixed like a motor vehicle.
"Unity is a political process that must be built painstakingly and nobody must take this for granted or feel they have no responsibility towards it."
Gigaba also called on South Africans to unite around inclusive growth.
"If we remain locked into opposing … camps based on ideological' party' racial and class affiliation' accelerated and inclusive growth will not be achieved' and the lives of ordinary South Africans will become all the more difficult'" he warned.
"This route benefits no one' neither the advantaged minority nor the disadvantaged majority."
Gigaba said people should not pretend that they did not have differences.
"We must not fixate on our differences' we must find common ground. Inclusive growth is that common ground."