One of mzansi's successful ensemble Gospel outfit Joyous Celebration is set to launch their latest offering, the Joyous 20 CD&DVD, at Carnival City.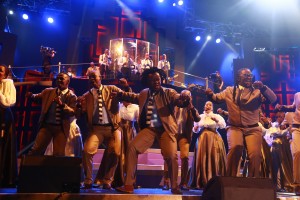 These is the group's second recdording at the venue, having done so last year.
Joyous 20 is no different, it is an ambitious collection of tracks, from rock to ama-Zion to a tinge of jazz.
As we approach Easter and Good Friday (holy)days, the MTN sponsored ensemble will perform three shows.
"The album brings together everything from traditional gospel to avant-garde, rock; allowing musicians who can dance, sing, and play instruments to work together," says Reverend Jabu Hlongwane, co-founder of Joyous Celebration.
Over the 20 years the concept has managed to build a legacy that has inspired many young aspiring musicians. This legacy is continually morphing and adapting with each release.
Each record adopts aspects of various influences while it maintains the hallmarks of a South African gospel music genre.
"This year, we are celebrating our long and proud association with the group by rewarding a loyal fan with a trip to the USA to attend MegaFest simply by engaging with MTN and accessing exclusive MTN Joyous Celebration CallerTunez by dialing the USSD strings below," says Larry Annetts, Chief Consumer Officer at MTN SA.
*Track Name*
*Artist*
*Tone code
*Glory MTN Joyous Celebration
*123*90# Wongigcina Emseni #2 MTN Joyous Celebration
*123*91# I Love You MTN Joyous Celebration
*123*92# Awesome MTN Joyous Celebration
*123*93# Kisihlabelo MTN Joyous Celebration
*123*94# Wongigcina Emseni #1 MTN Joyous Celebration
*123*95#
The shows are scheduled from March 25 & 26 beginning from 19:30. The third one is on Easter Sunday at 5pm, at Big Top Arena.
Tickets available at Computicket from R180 to R400.