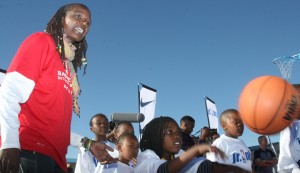 In Soweto, the NBA clinic took place at the newly-built Protea Glen Boys & Girls Club and members of the club's Pimville branch treated guest to a gumboot dance which was appreciated by luminaries such as the US ambassador to SA as well as the US Consular General, Christopher Rowan.
Also in attendance were the NBA Commissioner, Adam Silver and Nigerian Hall-of-Fame's, Hakeem "The Dream" Olajuwon; WNBA legends, Clarisse Machanguana, Ruth Riley and Ebony Hoffman.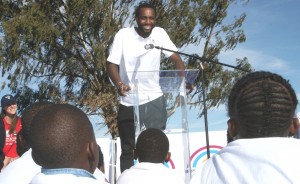 Other past and present players were, Serge Ibaka, Luc Mbah Moute, Mougsey Bouges, Bismack Biyombo [Toronto Raptors], Trey Burke [Utah Jazz], Al-Farouq Aminu [Portland Trail Blazers], Jeff Green [Memphis Grizzlies] and the Orlando Magic's Nikola Vucevic.
The speakers, mainly Americans, exhorted the gathered youth to have a sense of purpose in life.