Albeit my family did not own any Datsun brand that was popular in Soweto some generations ago, but I swear one of my neighbours' owned a beige Datsun-whom later I was told was a motor sales rep- because he changed cars much to everyone's envy in the community of Naledi, Soweto.
Since its introduction in the South African market last year, Datsun introduced its latest model this ye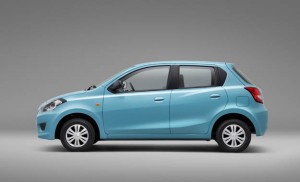 ar and hopes will attract budget-conscious locals – the Go hatchback.
Datsun's first modern product, the Go, is available in two specifications (Mid and Lux) with one engine and transmission (1.2-litre petrol, five-speed manual). It's 1.6m wide, 1.4m tall and 3.7m long with a long wheelbase of 2.4m. The name of the new car is derived from the first Datsun, the DAT-Go, launched almost a century earlier in Japan.
First-time car buyers are generally in the market for a stylish vehicle and in this regard the little Go doesn't disappoint. Datsun seems to have understood its buyers' need for good looks with its new contemporary design complete with large hexagonal grille, black honeycomb mesh with chromed surround.
I mentioned contemporary design since the Go seems to have borrowed elements from many vehicles – a Volvo-esque grille, amongst others.
Overall, it's a good-looking small car and sure to be a hit with students as far as design is concerned.
In short – it will get you from A-B and, provided you're not tackling any hills (or carrying more than four passengers) it will do so adequately and in relative comfort.
The Go is powered by 50kW/104Nm 1.2 petrol engine mated to a five-speed manual. No auto is available. Fuel consumption is listed as 5.2 litres/100km.
It's engine is quick to respond but owners should be mindful of its 50kW output, meaning spirited drives and high-speed overtaking will be severely limited. In the city, however, it comes into its own, being on par with its many rivals in the fiercely competitive budget hatchback segment.
There's noticeable body roll though its steering is light and responsive. Its tight turning radius (4.6m) is perfect for city parking manoeuvres. The transmission is temperamental, sticky with gears being difficult to slot. Once you're out on the open road, the ride is pleasurable enough, though at high-speed engine and road noise penetrates throughout the cabin.
Let's be clear, it performs adequately – neither bad nor particularly grin-inducing – but since Datsun is aiming its Go at a relatively young (read: not that knowledgeable about vehicles) market, having a car that can transport you to where you need to be in comfort, ticks many boxes… just be mindful of how many mates you're carting around after a night out.
It's designed to commute, not to be driven on a track. Playing to its strengths (read: city driving) will serve you well.
Inside, if you remember being inside a Datsun of yesteryear, you should feel at home as some elements seem to be derived from classic models such as its front bench, cream/grey trim, retro handbrake positioned from the centre console and manual external mirrors.
Datsun has catered to its "20-something" market by providing the basics for a smartph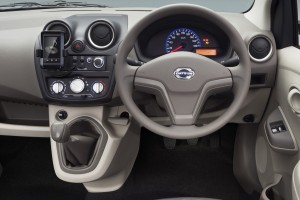 one lifestyle, among them an adjustable phone dock on the facia (it also allows for hornizonta orientation) as well as USB, AUX and Bluetooth connectivity (depending on the audio system). There's a surprising amount of a head and legroom and the boot space is ample at 295 litres.
The CD player has been added.
As a safety feature, yes, airbags have been added after the previous one we tested did not. Good move Datsun!
The entry-level unit is priced at R89 500, the most expensive at R99 500. Datsun made good on its promise to launch a sub-R100 000 car, an important psychological buying-barrier among cash-strapped South Africans.
With the latest 2015 Datsun Go launched, it seems the automaker has found its feet, depending on the economy.
Verdict:
1-10: Performance (5)
1-10: Fuel (6)