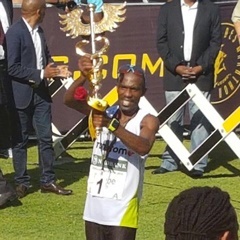 Newly installed KwaZulu-Natal Premier Willies Mchunu congratulated the winner Gatebe and all other runners especially from South Africa and KZN in particular.
"We are particular impressed by the record-shattering performance of 5:18.19 clock stoppage which resulted in the breaking of the Russian's Leonid Shvetsov's 2007 record of 5:20.49."
"Comrades Marathon is about endurance, determination and perseverance. I want to salute all the runners for being an inspiration to all of us. Importantly, I want to pay tribute to Bongumusa Mthembu for putting KwaZulu-Natal Province firmly on the map." "We are cognisant of the immeasurable global marketing opportunities offered by the Comrades Marathon. Having athletes from KwaZulu-Natal Province giving a sterling performance is a bonus.
This will enhance our efforts aimed at positioning this province as a sporting and economic destination of choice always ready to host sports lovers, business tourists and all other categories of visitors." "I also want to express my appreciation to the leadership of Comrades Marathon Association and KZN Athletics for working with the KZN government and other sponsors to host the most successful Comrades Marathon," said Mchunu.
The Premier also invited the public to the annual Mandela Marathon to be held at Pietermaritzburg.
"The Mandela Marathon has grown in leaps and bounds as the result of the support of many associations including the Comrades Marathon Associations."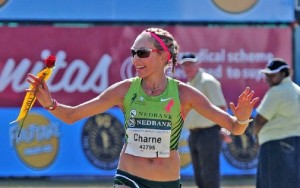 "The Mandela Marathon is not only about running but it is aimed at mobilising society to preserve the legacy of Tata Mandela."
For his effort and record smashing Gatebe pockets R1,14m. As yet he hasn't said much what to do with the lot.
The womens' run was won by another South African Charne Bosman (he first Comrades win) who beat favourite and 2015 champion Caroline Wostmann, who was involved in a motorbike accident but still soldiered on to come second.