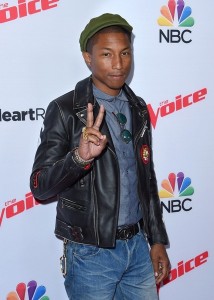 Williams will be performing on the 21st of September in Cape Town at the Grand Arena, GrandWest. Then at Ticketpro Dome (formerly known as The Dome) on September 24th in Johannesburg.
Williams is a multifaceted artist, who fuses fashion, music and art.
The 'Happy' singer has a Chanel campaign and a recent collaboration with Adidas under his belt.
In music Pharrell is unmatched. He received the Billboard Producer of the decade award in 2010 and has lent his magic touch on hits such as Daft Punk's "Get Lucky", Nelly's "Hot in Herre", Jay-Z's "I Just Wanna Love U (Give It To Me)", and Britney Spears's "I'm a Slave 4 U".
Williams's music career begins in the early 90's when he was in his teens. He later formed the group N.E.R.D with band mates Chad Hugo and Shae Haley. The band's hybrid alt-rock/hip-hop sound produced hits such as "Everyone Nose" (All the girls standing in line for the bathroom) and "She Wants To Move".
Williams's second solo album "G I R L" featured the wildly popular song Happy which spent ten weeks atop the Billboard Hot 100 chart and was number 1 on iTunes in 103 markets worldwide.
The concert was made possible by Big Concerts in partnership with Woolworths.
Earlier this year Pharrell and Woolworths announced his collaboration, as Style Director, with Woolworths for their "AreYouWithUs?" campaign, "a creative partnership aimed at uplifting education and environmental sustainability in South Africa".
Tickets for the public go on sale Friday 29th May at 9am. Tickets can only be purchased online through www.bigconcerts.com.
Woolworth's card holders get an exclusive two day pre-sale access.
If you do not have a credit card the option of buying tickets on VCpay is available.
For more info visit http://vcpay.co.za/blog/
Cape Town
Monday 21st September 2015
Grand Arena, GrandWest
Ticket Price: R450 – R735
Tickets go on sale Friday 29th May 2015 at 9am from www.bigconcerts.com.
Johannesburg
Thursday 24th September 2015
Ticketpro Dome
Ticket Price: R395 – R735
Tickets go on sale Friday 29th May 2015 at 9am from www.bigconcerts.com