One of the country's best kept secret is out of the bag: Riky Rick signs new deal.
This was revealed today when sensational multi award winner Riky Rick jotted on the lines a new lease of life with Mabala Noise Entertainment at their plush offices, Fourways.
Asked what were his expectations at one of the country's independent labels, born Rikhado Makhado says nothing new except taking his music to international stardom.
"Mine is to focus on new developments such as taking my music outside the borders of SA, and filming which is part of my bigger picture going forward.
"This also means releasing quality products/material and support from the stable," says Ricky, who is headed to LA for BET Awards tomorrow.
Without divulging when or what persuaded the talks, the mindful and business mogul Reggie Nkabinde reiterated that now is the time for revolution.
"We're going big and this only the beginning.
The game is evolving worldwide and SA must be part of that revolution.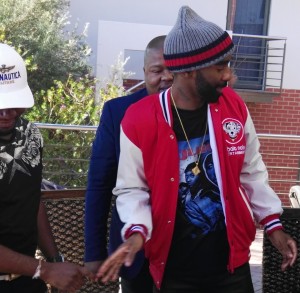 Signing the likes of Ricky means there's no comfort zone as we're compelled to change with times," says founder and chairman of the label "Governer" as he's known in the political circles.
He also berated the thought of international stars portraying our local icons that has become a norm.
"As part of going forward we're going to use our film expertise to deal with such issues, hence the acquisition of Riky. We're not couch critics but taking action. This is what we mean by evolution. The game is changing."
This partnership between Ricky and MNE aims to deliver consistent and fresh hip hop material thoroughly, but most importantly change the perception of the music business in South Africa.
Sikhulile Nzuza, head of A&R exclusively told this reporter that apart from attending the BET awards, there will also be opportunities for recording new material and collab with the likes of Korean and American rapper Tiger.
As part of international brand awareness, MNE is painting the city 'red' with top stars such as Chris Brown, Tinashe and US actress EVE, for the Mother of All Parties at Kings Park Stadium, Durban on July 2.
"We're also going to have for the very first time, a double-storey marquee for the Durban July horse racing," summed up Nkabinde, who reaffirmed 'going big' he initially referred to.
Tickets are available from Golden Circle:  R750; General Access R450 and VIP Lounge packages R1800.
MNE is the success story behind DJ Bongz, Ms Jones, L'vovo, DJ Chynaman and new rapper Du Boiz, who is also joining Ricky on the BET Awards sojourn for two weeks.
Meanwhile, those with no deep pockets will experience a live crossing/PVA of what is aptly coined 'Durban July Kasie Experience'.
King Zwelithini Stadium, Umlazi will host live streaming for both experiences: Mabala Noise Marquee/Mother of all Parties on Saturday and Picnic Session on Sunday, according to 'brand ambassador' for the kasie experience K Sibaya, who is best known for his role in telenova Uzalo on SABC1 as "Ayanda".