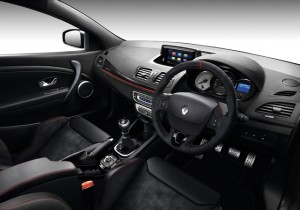 Following in the footsteps of the Mégane R.S. 265 LUX 2.0 Turbo which motored into Mzansi in February, it succeeds the Mégane R.S. 265 Trophy which debuted in SA in May 2012 and takes up the mantle of flagship of the Mégane Renault Sport range.
A powerful, sporty yet sophisticatedly-styled addition to the highly acclaimed and perennially popular R.S. line-up in South Africa, it boasts a multitude of innovative and intelligent technology features and fitments as standard and is sure to meet – and exceed – the expectations.
Since the launch of Mégane Renault Sport in 2004, Mégane R.S. has set the pace for sports cars and amassed a host of accolades locally and internationally.
At the heart of the new flagship Mégane R.S. 275 Trophy are well-proven sporting and technical credentials that have been re-worked, up-scaled and taken to the next level according to Brian Smith, vice president of marketing and communications at Renault South Africa.
"This is an all-round performance car that combines everyday driveability with an even sharper track performance. The CUP chassis fully taps the potential of the F1-inspired upgraded Renault Sport 2.0, four-cylinder turbocharged petrol engine.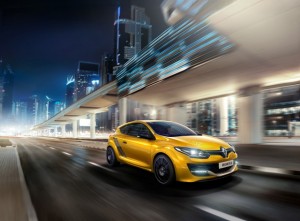 Premiering on the Megane R.S. 275 Trophy, it has undergone significant fine-tuning and been optimised to produce maximum power of 275 bhp," says Smith.
With 38 years of Formula 1 expertise under its belt, the RSTs engineering team has successfully transferred its technical know-how to Renault's production cars.
A number of definitive features and fitments underscore New Mégane R.S. 275 Trophy's stand-out design inside and out.
New Mégane R.S. 275 Trophy's build structure features front MacPherson-type suspension with pressed aluminium lower wishbone, rear torsion-beam axle and an anti-roll bar (24.2mm diameter).
Renault's safety stance is world renowned and in line with this, omprehensive passive and active safety features and fitments are standard including: ABS braking coupled with Emergency Brake Assist (EBA)Electronic Stability Programme (ESP) which, in the event of loss of vehicle control due to excessive speed or slippery road conditions, helps to get the vehicle under control by reducing engine power and braking on independent wheels Anti-Slip Regulation (ASR) anti-skid system.
As is the case across Renault's entire product range, the New Mégane Renault Sport 275 Trophy 2.0 Turbo comes with Renault's industry-leading 5-year/150 000km mechanical warranty plan. Six-year anti-corrosion warranty and 5-year/90 000km service plans also apply.
Service intervals are at 10 000km.
Recommended price of a new Mégane Renault Sport 275 2.0 Turbo Trophy R 449 900.00
Can't wait for reviews…