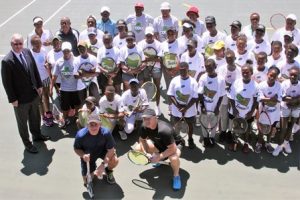 How many times have I heard that statement – and always from people who see sport as something sacrosanct and hallowed . . . and therefore "off limits" for political influences.
However, an undeniable fact of life is that as soon as any group of people are denied their basic human rights, they will seize "any means necessary" to redress their plight."
The excerpt above forms part of a wall display section encased in glass inside the clubhouse of a very modern, by any world standard measure, tennis complex in Central Western Jabavu (Soweto) named after the afro-haired and bespectacled court master – words of which were anecdotes, for the benefit of the London Sunday Times, stemming from a then whirlwind and recently concluded visit to Soweto.
Fast-forward to the 21st Century at the same tennis complex on a Friday morning of the 9 of March in the year 2018 and an unassuming executive named Norbert Sasse, a CEO of a company named Growthpoint Properties Group takes to the podium and immediately and unequivocally through the first words which roll off his tongue, lambaste as unfair comment a claim [recalled by a preceding speaker] that, "Sowetans can't play tennis!"
With the sound of the thudding of tennis balls, the screeching of sneaker rubbers and repeated punctuations in exultation and exasperation filtering from the adjacent centre court below, Sasse soon moved from that utterance of the passengers of the naysaying bandwagon to gush forth his courtside biddings in front of a gathering of stakeholders, officials, players, parents and a media corps who were at the venue to witness the gospel of the centre, thanks to Sasse's entity's generosity, being adopted as a development centre – with it being the second of five nationwide, to benefit pursuants of the sporting code!
Sasse went on to declare that Growthpoint Properties' intention was to make a lasting difference to the sport of tennis in the country through the creation of opportunities for children and adults from all backgrounds to learn, compete and excel.
A key foundation of Tennis South Africa's transformation goals, the Soweto centre, following on the footsteps of the opening of one in Greenpoint, Cape Town, was being launched as a Growthpoint Development Centre.
Spelling out the vision at the launch, TSA president, Gavin Crookes said that the development plan would focus on three key aspects, coaching, where the most important requirement for the success of their plan would be the provision of quality coaching in previously under-serviced communities; support for existing initiatives, whereat the plan aimed to link together and provide support for existing initiatives and central management – where TSA now centrally manages the  development programme via the new  Development Centres.
According to Crookes, the Centres will serve three key objectives of supporting existing grassroots tennis initiatives in their local community; partnering with local primary schools to provide tennis in their Physical Education lessons and provide a high performance programme for the best talent identified via the above initiatives.
He further put it to the mixed assembly that the real litmus test for a centre like Soweto was its sustainability – with community support and engagement critical to the ensuring of sustainability.
With a pair of large flat screens beaming flashback monochromatic images of Ashe's 70's Soweto visit around him, President of Gauteng Central Tennis, Bongani "Wire" Zondi, offered the audience a brief background of how through his unrelenting endeavour, the Soweto centre came to result into a paragon amongst sporting infrastructures – described by the TSA CEO as the best tennis facility in the whole of Gauteng.  His aim, opined Zondi, was to build a fully-fledged human being!
Dedicated and enthusiastic young members of the centre such as Amukelani Mokone certainly seem to be on course in taking up Zondi's challenge.
Among coach, Oupa Nthuping's charges, the teenaged schoolgirl is regarded as a rising star – so much so that in 2017, her club had to scramble together funds to cover for return airfare for an obligatory overseas trip whose mission had an immediate bearing on her development trajectory.
In fact, adults such as Sasse, who sportingly obliged the launch publicists request for attendees to show up in their smart casuals and sneakers, got to experience the lass' serves, returns and volleys – when they took to the courts to mix it up with the young and mainly still school-going members of her tennis club.
Although a full-time corporate executive, Sasse, who is also a keen tennis player, looked the part out in the heat of the complex centre court whilst TSA high performance manager, Andre de Beer demonstrated the basic and finer points of the game unto those novices who dared take up the challenge.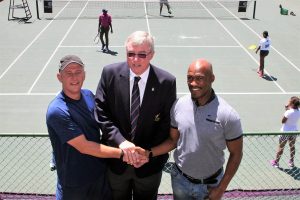 He intimated that South African 8th ranked player, Kevin Anderson's influence could be utilised to woo big names to these shores.
Alas, the Arthur Ashe Tennis Complex has already been a magnet to some significant catches – what with the Williams' sisters, Serena and Venus hosting a clinic at the very venue in 2012 and Mary Pierce and Jo Wilfried Tsonga, amongst others, paying courtesy visits at one stage the other.
With Mokone and cohorts surrounded by gem exhortations from Ashe such as: start where you are; do what you can; use what you have; always try to look like a winner, regardless of how you feel inside – it ought to be just a matter of time before the fledgling club members justify the backers investment in them by producing among them, in the words of Zondi, 'a highly-ranked kid!'