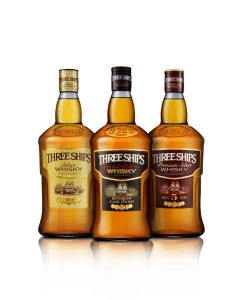 Regarded as one of mzansi's awarding whisky, Three Ships has a thick history four decades since the first Three Ships whisky was launched.
"The new packaging enriches the iconic visual cues of the brand and gives a greater prominence on shelf due to its fresh and contemporary design. Our aim was to add a more modern and premium look to our brand without compromising on our proud heritage," says Marketing manager, Liezl Dippenaar,
Dippenaar says went further to saying extensive research went into the bottle design which now features more prominent and distinctive lines and curves.
"Bold and dynamic elements such as the masculine shoulders, thicker glass base and new label shape all blend seamlessly with the iconic Three Ships illustration, the rope detail in the logo lock-up and embossing which allows for easier handling and a perfect pour."
Three Ships has won World's Best Blended Whisky award at the 2012 World Whisky Awards as well as gold and double gold at all the major international whisky competitions.
And of course, I enjoy the current Ad on air!