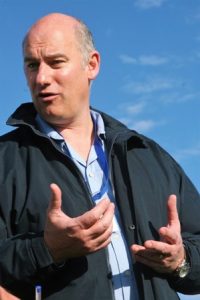 This follows reports that the company tasked with distributing grants on behalf of the State, is unlawfully making deductions and debit orders.
"This will put all these malicious reports and instability finally to rest. Yes, it does hurt us as the company and it can't be business as usual," said the unassuming Kotze, during his maiden speech to the packed members of the press at the at Ingeli Forest Resort in Harding on the KwaZulu-Natal South coast, last week Thursday.
The popular resort straddles between KZN and Eastern Cape.
The bald-headed Kotze, who has been with the company for 18 years' also touched on the controversial issue of severance package paid to former CE and chairman Serge Belamant.
"A variety of numbers have been used in the media. All of them are huge numbers. We acknowledge that and we understand that. But I think we need to put it in context that the biggest portion of the settlement or exit package relates to the purchase of the shares that he owns in the company.
"And as far as the remainder of the settlement package is concerned' this was calculated after deliberations between our remuneration committee and Serge over a period of time. We took into account a number of factors.
Obviously Serge is the founder of Net1 and has been with the company for 30 years and that was taken into account'" he said.
Belamant will also receive close to $11-million (R141.8-million) for shares that the company will buy back from him' plus $475'266 (R6.13-million) in stock option pay-outs.
Over the next two years Belamant will also continue to draw a monthly salary of $50'000 (R644'345) as a Net1 consultant.
Kotze said the income forfeited by Belamant due to his early retirement at age 63 was taken into consideration.
Net1 – the parent company of Cash Paymaster Services (CPS) which disburses social grants – has been at the centre of a legal dispute over whether it can lawfully make deductions from grant payments for micro loans' airtime and other financial services.
Posed whether CPS or other Net1 subsidiaries sell financial services and products within pay-points, Kotze said NO.
"We have a completely separate workforce and infrastructure under our company's financial services umbrella and all of our customers elect to visit our offices or roving teams to access our financial services."
According to him the company has also engaged with the auditing firm KPMG to confirm it does not use or share data with any of its subsidiaries, when asked if Net1 or SASSA shares any of data captured by CPS to sell products or financial services to grant recipients.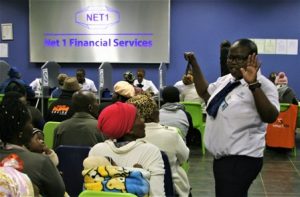 During a tour at one of the payment points at Bizana, some of the pensioners confirmed on good authority to SLM that the illegal deductions do still take place.
"Yebo (yes), we realize some of our monies are short when we draw our pension grants. This has been on-going for some time and when we enquire, we're told it will be resolved.
Hopefully, since you as intatheli (news reporters) are here, perhaps they will stop taking our money illegally," says the worried uGogo Ellen Chiya (83) who said she takes care of her 6 grandchildren.
Two of the eldest accompanied uGogo Ellen. "They didn't go school today to help me buy grocery and avoid being mugged, mtanami (my child)," she said.
Put to Kotze on such reports, he said they're working around the clock to remedy the situation.
"The most common complaint we get through our call centre is regarding debit orders or deductions.
"We have 1300 service providers who have access to the national payment system who effected these debit orders or deductions," he said.
The other issue that must be addressed is financial illiteracy in our communities. We're making inroads in the form of identifying institutions to partner with us to avoid such occurrences of illegal deductions etc, he said.
Belamant, who held both positions of CE and chairman, respectively, agreed to step down following controversy over a contract to distribute billions of rands in grant payments to 10.5-million beneficiaries every month.
For Kotze and his new team this will be a war to overcome.