THE BASHA Uhuru Freedom Festival is back.
This year's three-day, annual festival takes place from Thursday 28 June until Saturday 30 June.
June 2018 marks 42 years since the 1976 Soweto uprisings.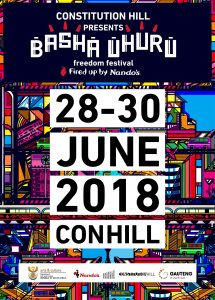 Through this flagship festival, Constitution Hill commemorates the youth of '76 who sacrificed their lives for our freedom. Each year the festival showcases contemporary art, design, film and music. It is a celebration of young South African creatives and their artistic freedom of expression.
Constitution Hill is a National Heritage Site and provides a space for us to remember our past, understand our present and imagine our future. Like Basha Uhuru all programmes implemented at Constitution Hill aim to ensure that the constitution becomes a living, interactive and demonstrable shared experience.
Provoking and inspiring, Basha Uhuru, the highlight of Constitution Hill's calendar has grown into one of the foremost urban, creative youth festivals in our country. At the heart of our philosophy and approach is the curating of unique experiences that bring young people together, while breaking new ground in the culture and the arts.
"Constitution Hill is not a static space stuck in time but rather a movement that connects the past, the present and the future through sparks of experiences like Basha Uhuru. Through this festival, we preserve the past and the sacrifices make by the youth of '76 making it accessible to young people today whilst transforming the future through real inspirational engagement at multiple creative intersections," says Dawn Robertson, CEO Constitution Hill.
Constitution Hill together with its partners, is committed to nurturing South African emerging creative talent. The Basha Uhuru Freedom Festival not only showcases art, design, film, and music but it also provides inspirational workshops and entrepreneurial support programmes for young creatives.
Visitors to the festival can look forward to an Art and Design exhibition featuring four artists from the Nando's Creative Exchange programme.
In addition, #i is a poster exhibition conceptualised by renowned photographer Jodi Bieber in collaboration with 45 young Jo'burgers, and designer and curator Brenton Maart.
The #i exhibition focuses on young people from different backgrounds in Johannesburg (aged15 – 23) – a generation that has not grown up under apartheid – a generation with a different historical experience to their parents.
They represent a generation that has the ability to access and communicate using technology. This enables their integration with a larger global community. The public poster exhibition of the work allows members of the public to take a poster away and so creates a future life for the artwork.
A selection of objects from GALA's archive – Gay and Lesbian Memory in Action constitutes another exhibition that is being featured.
This year the Basha Bacha creative conversations will evolve into a creative entrepreneurs programme supported by the Gauteng Economic Propeller.
"The creative economy is closely related to the start-up economy. It disrupts what went before.  It's about new ideas, new technologies, new products, new services, and new ways of doing things.
Many creative industries are not just creative in what they do; they are also creative in how they do it. But to grow it and sustain it is as difficult as growing a business in any other sector of the economy, perhaps even more difficult.
"This year's Basha Bacha conversations coincides with the Centennial Birthdays of our country's decorated struggle figures, Tata Nelson Mandela and Mme Albertina Sisulu.
We firmly believe this will evolve into a creative entrepreneurship programme fully supported by the Gauteng Enterprise Propeller (GEP), thus providing opportunities for those involved to reach their full potential.
The creative economy is closely related to innovation which is a critical aspect of entrepreneurship.
The creative economy positively contribute a significant share towards job creation and entrepreneurship development.
Through this programme we hope to address some of these challenges faced by young creative entrepreneur's", opined Leah Manenzhe, acting CE -Gauteng Enterprise Propeller.
The festival music lineup on 30 June features Black Motion, Samthing Soweto, BCUC, a reunion of Skwatta Kamp, Sho Madjozi (South African mentor for the 2018 Nando's Music Exchange programme), as well as MUZI and Joshua The I AM (previous Nando's Music Exchange artists).
Tickets sales open 30 June . Early bird tickets go on sale online on the Basha Uhuru website (www.bashauhuru.co.za) for R50.
Tickets will also be on sale on the day through the Constitution Hill Box Office at R75. All other programmes are free but registration on the website is required for the Basha Bacha Creative Collisions programme which is open to creative entrepreneurs.