AS REFRESHING as South Africa's Champion beer, Carling Black Label's #ChampionFathers digital campaign took social media by storm as thousands entered for a chance to have their Father's Day message on a billboard.
Social media timelines and radio airwaves were filled with heart-warming messages that recognized and honoured Mzansi's father figures for the unique roles they play in society.
The campaign was launched through a documentary-style clip of producer and DJ, Shimza; football maestro, Reneilwe "Yeye" Letsholonyane, as well as media personality and actor, Bohang Moeko who all shared moving tales of their father figures.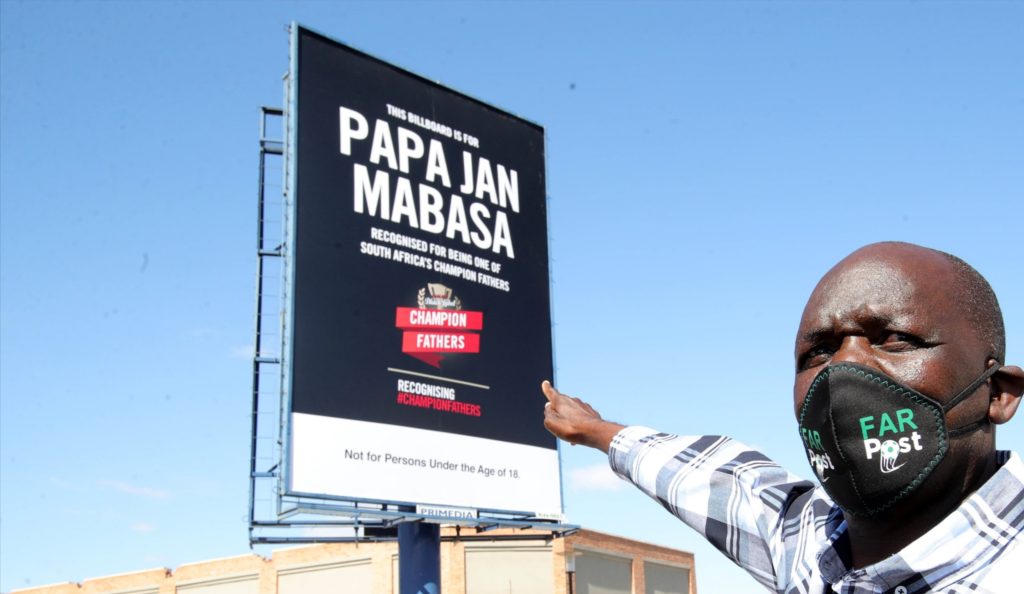 The campaign focused on industry leaders and community fathers who have played a father figure role in the lives of upcoming youngsters in various industries.
Businessman William "Bra Willy" Mathebula is responsible for introducing Shimza to the music industry and believing in his passion, while football legend and club owner, Jomo Sono imparted discipline to a player he scouted and provided with a platform to shine in Letsholonyane.
And, for Bohang Moeko, it was the much-needed advice that he received from veteran actor, Jerry Mofokeng that propelled the actor to nominate Ntate Mofokeng this Father's Day. Without the role played by these father figures in the lives of the above-mentioned youngsters, who knows where they would be today
"At Carling Black Label, we believe in rewarding Champions so we started by partnering with these influential young men who wanted to use their voices to honour three distinguished men.
We did this to encourage our consumers to do the same for the father figures who have positively impacted their lives. We were overwhelmed and inspired by the life-changing stories that were shared, and because of the great response we received, we decided to select three winners who will have their Father's Day message on the biggest card – "a billboard, " said Carling Black Label Brand Director, Arne Rust.
"This year's Father's Day celebrations fall within a myriad of social upheaval and never has it been more pertinent, for strong willed men to rise to the fore and raise their voices against the ills of society. And as Carling Black Label, we would like to honour the men who have been doing so without being asked to. We honour the champion men who do right by those around them," Rust continued.
These are the winners of the competition, whose tributes to their father figures inspired and moved us all. These lucky winners will have their Father's Day messages on one of our billboards soon.
Following the death of her biological father when she was still a young girl, Sandiswa Mwanda's uncle Phelele Mwanda stepped in and decades later, continues to be the stronghold of the family.
Hailing from Cofimvaba in the Eastern Cape, Phelele Mwanda is a teacher, football and softball coach, a respected community leader, and also forms part of the police forum.
On why she nominated her uncle, the Umhlobo Wenene winner sternly responds: "His love and support has shaped the person that I have become, I learn so much from him; how to care for others, how to love and how to be independent," said Sandiswa.
Similar to Mwanda's story, January Mabasa stepped in to become a father to his late brother's children, one of which was Tiyani Mabasa who entered the competition on social media.
On nominating the retired policeman who he affectionately refers to as Papa Jan, Mabasa said: "I am nominating him to recognise his leadership. We come from a big family and though the seniors have departed this earth, Papa Jan has taken on the responsibility to guide the family through the years.
Because of his presence and lessons, I've learned to understand the value of playing a role in other people's lives. Life is not only about you, but others," Mabasa concluded.
The third and final winner was Zandile Sibande, who was selected from Ukhozi FM.
Her father figure is Sibusiso Zikobe from Durban in KwaZulu-Natal, and in a world of social ills such as Gender Based Violence, Zikobe has proven to be a Champion Man who deserves to be honoured.
As a human rights activist in the KZN, he has led various initiatives to assist and protect vulnerable women including Sibande in their time of need. Most recently, he has given out food parcels to underprivileged households headed by women.
Having met the kind-hearted humanitarian in the early 2000s, she describes him as: "A father for all the poor people. He does not take sides, he is not a politician – he is just a humble man and a father for all the people who are vulnerable.
He is always on the side of the poor and this is why I chose him. He is my role model, my brother, my father – my everything," she said.
The digital billboards were unveiled in areas selected by the competition winners: Giyani, Limpopo; Durban Central, KwaZulu-Natal; as well as Cofimvaba in the Eastern Cape.