JOHANNESBURG taxi bosses affiliated to 11 associations have vowed to intensify their strike against the Johannesburg Metro Police Department (JMPD) if their concerns are not taken seriously.
Taxi drivers are now discussing the op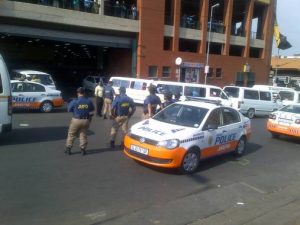 tion of a national shutdown if authorities don't respond positively to a list of grievances they submitted to the JMPD on Monday.
Commuters in Alexandra, Randburg and Midrand areas were affected by the work stoppage after more than 500 vehicles were impounded at the weekend.
Drivers say the vehicles are roadworthy and have accused the JMPD of targeting them.
Taxi owner Gladys Matlhare says: "I do agree that some taxis are not roadworthy. But the roadworthy ones, why now punish me for somebody else's unroadworthy car and we're now in the same boat?"
Public Safety MMC Michael Sun says the JMPD will not be bullied by taxi associations to condone lawlessness.
Meanwhile, JMPD spokesperson Edna Mamonyane has remained steadfast on their fight against unscrupulous behavior of some taxi owners as part of Buya Mthetho campaign- let there be order.
She was reacting to news that they bully and impound taxis willy-nilly.
"We shall not be ordered or dictated to by anyone when it comes to road safety. We're doing our job and the sentiment that we're targeting taxis is a far cry from the truth," she said unflinchingly.
"If they don't obey and bend the rules of law we impound, finish & klaar. Road safety cannot and will be not compromised," pointed out Mamonyane harshly.
The association has given JMPD and Gvt seven working days to respond.
Additional reporting Sydney Morweng-news editor.