ITS COUNTDOWN to the much anticipated Vodacom Durban July 2018.
Fashionistas, celebrities, government officials, businesspeople, sport figures, influencers and musicians (hangers-on alike) will descend in Durban, if not already, for the entire week fest.
It has been brought to our attention an e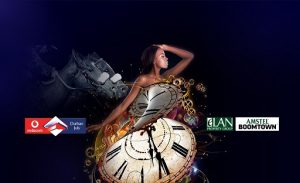 stimated R150m will be injected into the coffers of the province's GDP.
The main event happens on Saturday July 7 at Greyville race course, were over 50 000 revelers are expected to attend and be seen- in their latest garments, gowns and fakes in whatever form, oops…
This year, Amstel Boomtown make its debut as one of the largest hospitality events on offer.
They've partnered with Blythedale Coastal Estate, as the official property partner of Amstel BoomTown.
More than 5000 guests will be entertained by screens with live feeds of the races, as well as the exciting music lineup, featuring the likes of (Amstel ambassadors DJ Shimza, Maphorisa), Bongo Maffin, HHP, Shekinah, DreamTeam, Babes Wodumo, etc.
Guests will be able to sign up and stand a chance to become a finalist to win a R1 million piece of land at the upcoming éLan Gold Cup.
According Simphiwe Majola (PR guru) on Friday, guests will be entertained at a private party a precursor to Saturday's Amstel BoomTown event.
THE Glenlivet JazzTown hospitality has also raised the bar.
Guests will be pampered with top class cuisine, fine whisky and a world-class original local jazz line-up with headline acts Ringo Madlingozi and Thandiswa
Mazwai, in a luxurious marquee environment, all whilst experiencing the thrill of thoroughbred horse racing.
The events come in the wake of Tourism KZN (TKZN) announcing the introduction of the new Durban direct flight from London by British Airways, which they hope will grow the UK arrivals which is currently the number one key international source market for the province.
The City's weather is hot this time of the year, so those who have been experiencing wet and chilly temperatures this is a good excuse to gallivant on the beach, etc…