One of South Africa's biggest gathering events of them all is looming.
The annual Mangaung African Cultural Festival returns in the Free State Province for 2015 edition and Loliwe Touri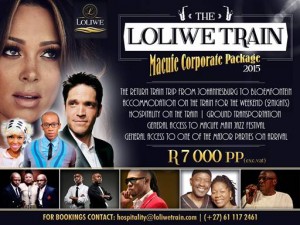 sm Train Experience will be snaking its way to this grandest fest.
Described as 'Hotel in motion' (Premier Classe) Loliwe provides entertainment, fun and shows off the beauty this country has in abundance.
An idea borne out of traveling and to conscientious the public to use the mode of rail travel in the country, Ntebo Lesetla-Peri says, this goes on to show why our people should be encouraged to use this mode of transport and also chip into to the SADC States market.
"We will showcase what the Free State has to offer from a tourism perspective and of course be part of the world renowned Macufe festival", says Ntebo, who heads the Jezreel Group.
The former SABC news presenter's company also promotes domestic travel and South Africa as a destination of choice, which embarks on premier events such as the J&B Met, Metro FM Awards, the Durban July and the Cape Town Jazz Festival.
Very soon, the Loliwe Train Experience will embark on a tour with Drakensberg Boys Choir.
Says Ntebo:" Loliwe through its partnerships creates opportunities for young people in various provinces. Job creation is one of my key strategic objectives as we continue to contribute towards the country's economic development through travel."
An estimated R6million has been projected pre and post Macufe, that translates to creation of jobs and increasing of GDP in the economy of the province.
In partnership with Radio 2000, the luxurious train departs Johannesburg on October 8 and returns on 11. It is supported by the Free State government.
Macufe runs from 2 to 11 and has international line-up featuring Tamia (USA), Dave Koz (USA) and Sierra Maestra (Cuba).
Also included is a game between Kaizer Chiefs against host Bloemfontein Celtic on Sunday for the Macufe Cup.
For corporate bookings go to: hospitality@loliwetrain.com