'Just the way you are' won Colin Mann Primary School from Germiston- Gauteng the MySchoolSingWithUs competition. Yes, education meets music!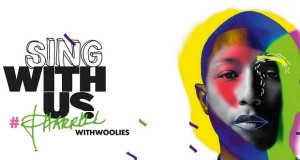 This means they are ready to share the stage with international music award winner and philanthropist Pharrell Williams in September.
They ousted other hopefuls to make it to the finals, that comes handy with a cool R100 000, that would be used to renovate the school hall, which was built over 55 years ago and is badly in need of a makeover.
Mann Primary competed with over 200 schools for the MySchoolSingWithUs Competition that began early this year.
The announcement was made at the winning school's assembly on August 26.
"We did not just enter a song, but added a storyline to it highlighting our anti-bullying programme at the school," says Marina le Roux, School Principal.
"The chosen song, 'Just the way you are', seemed to be a great choice to let all the children know that no matter how different you may be, each and every one is special in their own way."
They are now practising for their performance at a private Pharrell's concert for 5 000 Woolworths WRewards customers in September.
Durban Girls High School from Durban came second and third prize went to Zwaanswyk High School, Cape Town.
The MySchoolMyVillageMyPlanet Woolworths programme raises more than R4 million per month for the schools, charities, animal welfare and environmental organisations it supports.
As for Pharrell's #areyouwithus two shows the wait is over, bring it on!
Tickets are available at Computicket outlets in both Cape Town and Jhb.