IT made sense that this years' 8th annual Samsung Africa Forum has been themed " One Pride".
This is for obvious reasons considering what the Korean innovative technology company has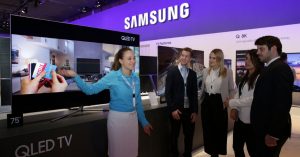 been going through recently.
It happpens at the Cape Town International Convention Center from February 23 to 25 2017, were over 3000 guests from the African Continent, US, Europe and Asia will descend at the 'Mother City'.
The gathering will showcase all latest range of products courtesy of Samsung.
"Samsung's goal is to inspire the world and create the future with innovative technology and creativity, thanks to a deep understanding of what people really need and want," says Dr Michelle Potgieter, Director: Brand Marketing and Communications at Samsung South Africa.
"The Forum will help us to achieve our goal of enriching our customer's lives, while contributing to socio-economic prosperity across Africa and supporting a sustainable environment for us all." Our own businesswomen and Soweto born Basetsana Kumalo, will feature amongst key speakers at the three-day event.
According to Dr Potgieter, Kumalo will address key stakeholders during Media Day, as part of her extensive portfolio of experience and knowledge of the African market.
Meanwhile, on a sobre mood the Samsung boss in Korea Lee Jae-yong has been arrested for bribery, perjury and embezzlement.
This follows startling reports that emerged this week that the (48), Samsung Electornics chairman is alleged to have known or orchestrated Samsung Elec paying Choi Soon-sil, a close friend of President Park Geun-hye, over $30m in bribes to gain government support for a merger of two companies of the business group.
Last year Samsung had to recall the Galaxy Note 7 globally.
It is strongly believed the forum would be used to tackle such inaccuracies that has besieged the company.
Indeed, in these trying times we need that One Pride, don't we?