DEFIANT Passenger Rail Agency of South Africa acting CEO Collins Letsoalo was axed on Monday night in the wake of disclosures by Sunday Times of his 350% salary increase.
The Prasa board said on Monday night it had unanimously agreed to terminate his contract.
The development came in a day of drama which saw Letsoalo attack The Times's sister publication for its weekend revelations.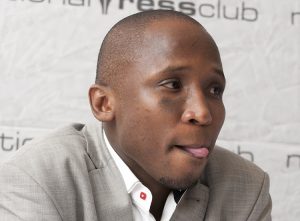 Letsoalo claimed at a press conference on Monday that that the board had confirmed the increase.
But the axe fell when the board confirmed that it had not authorised his pay hike and said it viewed the controversy over his pay "in a dim light".
It said procedures relating to Letsoalo's gargantuan pay increase had been flouted' "leaving the board with no choice but to terminate his temporary tenure with immediate effect".
Earlier on Monday board chairman Popo Molefe confirmed that — despite Letsoalo's protestations — his board had not approved the huge increase.
Letsoalo's pay increase to R5.9-million a year — and his alleged demand that he be assigned a chauffeur — was revealed at the weekend by the Sunday Times' which documented how he had orchestrated his pay hike.
He was seconded to Prasa by the Department of Transport last year with a package of R1.3-million a year plus a 12% "acting allowance". His brief was to "sort out" the floundering agency.
The Times revealed that the board was given a legal opinion earlier this month that warned it against increasing Letsoalo's pay.
Board chairman Popo Molefe said earlier on Monday: "The reality is that we have not approved that irregular salary as the board. It was not approved.
"It was a distortion and misrepresentation of facts.
"He was appointed as the group's acting CEO and [the decision was] that his remuneration be determined in accordance with the policy of the organisation for that acting position.
"The policy is very clear that when a person is acting' his salary may be increased by up to 12%' based on what his package was' not the salary of the person who was the CEO before' because we are not appointing him into the position of CEO; we asked him to act [in that position]'" he said.
Soon after arriving at Prasa' Letsoalo lobbied to be paid the same R5.9-million package as former Prasa boss Lucky Montana.
At the time Transport Minister Dipuo Peters said in a secondment letter that Letsoalo's move would not result in a pay increase' or change in position.
The legal opinion' which The Times has seen' mirrors Peters' stance' saying there should be a distinction between the position of acting and permanent CEO.
The opinion makes it clear that the remuneration issue was misinterpreted by Letsoalo and that he was not due the salary of the CEO while in an acting position.
It says there was no board resolution approving his increase and it appeared that there had been misconduct by him and the senior official who approved the increase.
Letsoalo's increase would also have to have been approved by the Department of Transport' which was still his employer.
The department's spokesman' Ishmael Mnisi' said: "The Department of Transport' together with the minister' raised concerns about the media reports regarding this issue and contacted the Prasa board to investigate the matter and report back to the department by March 3 to ensure that appropriate action is taken.
"In the letter of the minister [when Letsoalo was seconded]' it was very clear that' in terms of the public regulations' Letsoalo was seconded with his rank' salary and seniority unchanged.
"We did not appoint Letsoalo on a different salary scale. All we said was: 'We are seconding you as our chief financial officer at that institution but when you get there' there are terms and conditions [as in] any other institution or organisation functions''" said Mnisi.
During a press briefing in Pretoria on Monday' Letsoalo said: "People must seek to report what is truthful and not raise issues that really don't exist.
"There's a lot of people like myself that get attacked for trying to do the right things."
Meanwhile, the South African Transport and Allied Workers' Union (SATAWU) will be seeking a meeting with the Minister of Transport "to gain a better understanding of what is happening" at the Passenger Rail Agency of South Africa (Prasa).
This follows an article in the Sunday Times this weekend' which alleged that Prasa acting CEO Collins Letsoalo had given himself a more than 300% salary increase to put him on par with former CEO Lucky Montana. When he left Prasa' Montana's package totalled R5.9 million. The union said Letsoalo clarified at a press briefing on Monday that the salary package was duly approved by the board of Prasa.
"More worrying for us' however' is the turnover rate of CEOs under the current board.
"There have been three CEOs so far and yet the circumstances at the rail agency continue to deteriorate.
Under the guidance of the current board' Prasa is all but bankrupt'" the union charged.
"Managerial targets are not met and there has been a spike in train delays and avoidable accidents. Take for instance the latest incident where two trains running on one line collided' injuring more than 100 people.
"Unfortunately' the losers in this situation are the poorest of the poor whose dream of a safe' reliable' affordable and integrated public transport system is still deferred."
SATAWU said it was "gravely concerned" about its members' job security' if nothing is done to ensure that Prasa is sustainable.
"Sanity must prevail and therefore Prasa must be returned to a state where it can operate optimally. The revitalisation of the trains and rail infrastructure must be put back on track. For these reasons' SATAWU will seek a meeting with the shareholder' the Minister of Transport Dipuo Peters."
Letsoalo denied these claims and said he was being targeted by those who sought to undermine the work he was doing at Prasa.
"I will fight this corruption in Prasa. I will fight this nepotism in Prasa. We have hard-working men and women in Prasa. I want to say to them more is coming' but we must never deviate from the cause.
"People must seek to report what is truthful and not raise issues that really don't exist'" he said.
Letsoalo said he was a
"proud' incorruptible public servant" and that he was determined to leave Prasa in a better condition than he found it in.
"There's a lot of people' like myself' that get attacked for trying to do the right things."
Letsoalo said he would like the Sunday Times to print a front page apology for not reporting on all of the facts related to the story.
"I am on a Facebook or Twitter person but I heard I was trending [after the story's publication]. I don't know if people know I was trending based on lies'" he said.
I will take legal opinion, continued Letsoalo- additional reporting Sydney Morweng-news editor.