CONGRESS OF South African Trade Union (Cosatu) remains adamant that Deputy President Cyril Ramaphosa should become the next African National Congress (ANC) president.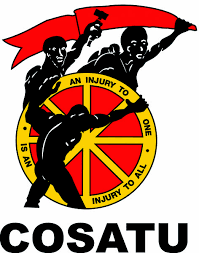 Addressing the federation's sixth central executive committee meeting, deputy president Tyotyo James said that they are making the pronouncement on the ANC's succession battle because they want to save the ruling party from self-destruction.
Although the ANC only opened the succession debate on Monday following its three-day long national executive committee, a lot of ANC leaders including president Jacob Zuma have made their choices clear.
Zuma has endorsed the former African Union Commission chairperson and ex-wife Nkosazana Dlamini-Zuma to takeover when his term comes to an end in December.
The ANC Women's League has also endorsed Dlamini-Zuma.
Cosatu said that they must not be condemned for making a call that Ramaphosa should succeed Zuma.
"Cosatu must not be condemned for its choice of who should be the president of the ANC, we are not confused. We want the current deputy president to be the president of the ANC. That is clear." said Tyotyo.
"We must not be condemned when we say that because others are making pronouncement as they are not condemned. We want Cyril Ramaphosa as the president."
Cosatu members then broke into a song calling for Zuma to leave.
"Re utlwile ditaba tse monate ba re Zuma ha tsamaye" (we've heard the good news saying Zuma must go).
This comes weeks after Cosatu banned Zuma from addressing any of its gatherings stating that they want Ramaphosa to address them instead.
"The NEC agreed that we should continue discussing the principle that should guide election of leadership in the ANC but allow the structures of the ANC to start discussing the names. Such discussions should be based on the principles discussed and through the eye of the needle. Nominations will only be opened in September 2017," said ANC secretary general Gwede Mantashe, adding that the debates will be closely monitored to ensure potential candidates are not ridiculed or defamed.
Mantashe was speaking at a press conference held by the ANC on Monday afternoon.
Meanwhile, South African Communist Party (SACP) general-secretary Blade Nzimande has repeated claims that his party is being "bugged" by intelligence operatives.
"It's totally unacceptable. We are being bugged and listened to as the apartheid regime used to do to us as communists before 1994'" he told 702 on Tuesday.
He was elaborating on comments he made during a message of support at the 6th central committee meeting of the Congress of South African Trade Unions (Cosatu) in Pretoria on Monday.
Apart from launching a scathing attack on the Gupta family' he said that members of the SACP were being "threatened" for speaking truth to power.
He told Radio 702 that "we are absolutely certain" that the SACP was under surveillance' as was the case under apartheid.
"We are having people who are coming from inside the ranks of our own government actually doing the same things to us. It's unacceptable."
Nzimande also complained about the party being under surveillance during a commemoration service for the late Chris Hani.