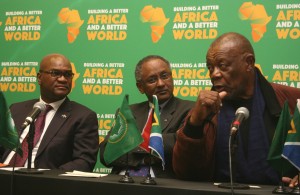 Hosted by South Africa's Department of Arts & Culture, the gathering set camp at the World renowned heritage site for week-long deliberations on a myriad of issues besetting the centerpiece continent.
These ranged from poaching, the threat of terror from organizations such as ISIS and others wreaking chaos in various countries, African pride, the SAHARAWI people's independence, school curriculum reflecting heritage, consolidation of unity and integration, implementation of policy instruments, protocol on wildlife, etc.
At a panel briefing to the assembled media, Minister Nathi Mthethwa spoke at length on how the panel were knuckling down to the business of tackling the various issues through the scheduled sessions to take place throughout the week.
There was also a Reference Group composed of famed local poet, Mongane Wally Serote and SAFM Africa Music program presenter, Richard Nwamba, among others, who extolled virtues of African Pride.
To commemorate the Africa Month, in the words of the poet, Ben Okri (from his poem Mental Fight)
"You can't remake the world without remaking yourself,
Each new era begins with-in,
We could use the new era
To clean our eyes,
To see the world differently…
Only free people can make a free world,
Infect the world with your light,
Help fulfill the golden prophecies,
Press forward the human genius,
Our future is greater than our past."
As part of the colloquia programme, there will be a host of events unfolding such as the Nobel literary laureate, Prof Wole Soyinka, (in partnership with Press Club SA and the African Independent), who will deliver a lecture in Gauteng.
The famous Ghanaian writer, Ama Ata Aidoo will discuss her work in the Eastern Cape. The renowned Howard University academic, Prof Harold McDougall will deliver the Nat Nakasa lecture in Durban.
The acclaimed author, Zakes Mda will engage audiences in Kimberly and Mangaung.
Festivals of African music will be held around the country notably in Limpopo, KwaZulu-Natal, the Western Cape, the Eastern Cape and Gauteng: these events focus on intra-African collaboration. There will be a focus on fashion in hubs around the country.
Notable activities include the Gcwala Ngamasiko International Cultural Festival, an international multi-cultural and multi-disciplinary festival that brings artists together from around the continent.
The Africa Month programme encompasses a Pan African Culinary Festival in Durban, an indigenous food symposium in Polokwane, an African traditional dance and music festival in Rustenburg and an African carnival in Port Elizabeth.
A reggae festival, an anti-racism music festival and a film festival will be held in Limpopo. The acclaimed Amandla Musical production will be hosted in Soweto and Emalahleni.
The iKauru Contemporary Art From Africa exhibition that showcases African contemporary art will be held in Gauteng and this project aim to expand to other areas and explore fine art through the lens of regional integration and unity.
There will also be the 5th International Marimba and Steelpan Festival that brings people together to play these instruments and to learn traditional dance.
This agenda seeks to make Africa a better place to be and to live by 2063.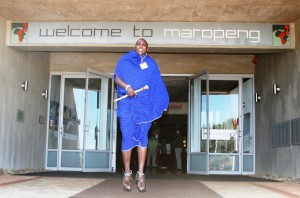 An Africa that will occupy its rightful place in the world. An Africa that is recognized as a maker of this world.
As Bertolt Brecht reminds us in his poem "A Worker Reads History"
"Who built the seven gates of Thebes?
The books are filled with names of kings.
Was it the kings who hauled the craggy blocks of stone?
And Babylon, so many times destroyed.
Who built the city up each time?…"
Maropeng is a seTswana word loosely translated 'returning to your place of origin'.
Additional reporting by Sydney Morweng, news editor.