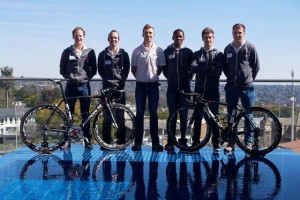 Luthando KaKa is upbeat as he prepares for the 29th Tsogo Sun Amashova Durban Classic 2015.
KaKa, a cyclist for five year's, has been with the team for 6 year's and professional for the past 10 years.
As a member of the Team Gauteng Bonitas he told SLM, that for him and his team they will be vying for glory and complete the race, during the media brief at Hyde Park-Southern Sun.
"Preparations are at advanced stage and everyone is keen to deliver on his mandate. To win the race is important and time is secondary," says KaKa (who is by any chance not related to the football star and former Real Madrid midfield genius KaKa).
The 106km long cycling race takes place in October 18 2015 from Pietermaritzburg City Hall to Durban.
Says KaKa, this race has opened many opportunities particularly for blacks, who lacked knowledge about it. "One can survive or make a career out of it. It has for me. In Europe it is popular and my belief is that it is on the rise in SA.
Look at what Team Qhubeka did, its' amazing for they have raised the flag of our country globally."
This is the second year that Tsogo Sun is the headline sponsor of the race and last year's Tsogo Sun Amashova proved a huge success, drawing a record number of over 10 000 entries, which could be doubled to 12 000.
A cool R100 000 is at stake for cyclists.
"The Amashova has been going for 29 years – but the headline sponsorship by Tsogo Sun has given it a new lease on life, adding activities and appeal to the event and attracting the attention of riders from elsewhere in the country and even from Europe," says Noëleen Bruton, Director of Marketing Group of Tsogo Sun.
"We are proud to be associated with this fantastic KwaZulu-Natal tradition and we anticipate pulling out all the stops to ensure that all our Amashova guests experience a brilliant weekend away."
According to Durban Tourism boss Phillip Sithole, with vast interest shown already they hope to see the numbers doubling from 10 000 to 12 000 participants.
"This would inject approximately R50m into the coffers of the Province, pre and post the race, despite being a one-day event," says Sithole, who confirmed he won't be partaking but will vie for his 'buddy' John Smit-former Boks player now Sharks boss.
Continued Sithole: "With investments taking place within the Durban beach precinct thanks to Tsogo Sun, we're able to build infrastructure and improve services in the city. And by so doing this means we can host major events and increase the brand awareness of the City and of the Province."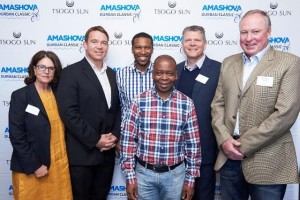 Importantly, the race has also contributed significantly to local communities with its social investment programmes, which includes having built a road safety bike park at Ethembeni School in Inchanga, and many other projects.
Fun ride options of 35km and 65kms will also take place for the likes of yours' truly- who are not yet ready for the major hurdle. Perhaps Mr Sithole will change his mind on this one, or kanjani?
For more information on registration visit www.shova.co.za.