WITH DAYS left before the much awaited ANC Policy Conference, battle lines are drawn.
As things stand, there will be blood spattered all over as factions are gearing for each other.
The conference begins from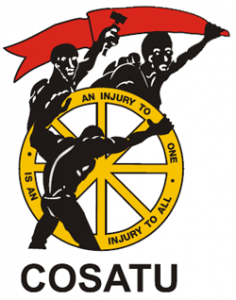 June 29 to July 5 at the Nasrec Expo Centre, Soweto.
Firing the salvo was the ANC's national executive committee member Mathole Motshekga, who during the National Union of Mineworkers Youth Conference in Rustenburg, this past weekend said, there are factions going to the conference to push or implement policies that do not exist or are indirect to the current policies.
"The ANC is going to a [national] policy conference and that policy conference is facing a big threat of people who want to use populist policies which are not policies.
"For instance' we hear people saying we want radical economic transformation who take the whole thing out of context. Why are people using radical economic transformation and social and economic transformation as interchangeable? They think they can confuse you' we can't be confused'" said Motshekga.
Motshekga, who is also the chairman of the parliamentary portfolio on justice and correctional services, lamented that "Comrades' your mission is that this deep crisis that the ANC has been put in by soul seeking people who sell their souls… and when they are finished selling their souls' they sell the soul of the African National Congress and the people of South Africa'" he said, an obvious poke to those implicated in the State Capture report, including President Jacob Zuma.
COSATU general secretary Solly Phetoe' said the future generation who would be the next leaders of the ANC and its tripartite alliance partners should not be aligned to corruption and factions as this would destroy the organisations.
"Comrades' you know that we are getting old [so] we need young blood that will advance the national democratic revolution. We don't want young workers who are corrupt and are directed by the Guptas who are going to destroy our country because of factionalism that is taking place in the ANC'" said Phetoe.
"As Cosatu' we are not going to keep quiet about the developments currently happening in the ANC. We are going to fight and defend the African National Congress and put it back to where it was during the time of Madiba (former ANC president Nelson Mandela)'" he said.
Deputy President Cyril Ramaphosa received huge backing from the conference delegates to become the next president.
The Policy Conference is a yard stick to gauge progress made, achievements gained, elections and future economic outlook, land and banks issue, the recent mining charter, education system and preparations for the December elections, among others.
Yes, as indicated the conference will be rough and tough.