BALEKA MBETE, Speaker of the National Assembly, in her keynote address said South Africa must continue to prioritise transformation in all spheres of life, from government to small business, to benefit everyone.
She was addressing guests at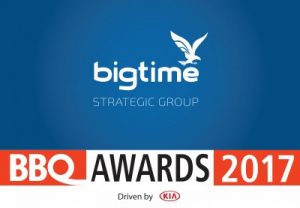 the 2017 Black Business Quarterly awards held recently at its 'traditional home' Emperors Palace, Ekurhuleni.
"May you progress to even greater heights in your business ventures," she wished the award nominees.
Attendees were dressed to nines as they waltz the red carpet for the illustrious awards ceremony.
Guests had the privilege of rubbing shoulders with A-list celebrities, top business leaders and prominent politicians.
Celebrity TV presenter, socialite and radio personality Somizi Mhlonge was the programme director for the evening.
"The event is trending at number three [on Twitter]!" said an excited Mhlonge during the festivities. "These are the things that have to trend. Let's make these successes very cool," he said.
"The Big Time Strategic Group BBQ Awards are very important for us as a people, as a black nation, as young entrepreneurs, as organisations and organised business, and as a country looking to go all the way into the future," said Justice Maphosa, CEO of Big Time Strategic Group, naming sponsor of the event.
"Today as we meet here, we are saying to those who win the Awards, 'Thank you for making us proud'."
Jeff Radebe, Minister in the Presidency for Planning, Performance, Monitoring, Evaluation and Administration, also congratulated each nominee for their exceptional contribution to the world of business and encouraged them to help develop others:
"The true value of any award cannot be realised unless the winner contributes toward the development of their own communities. In this regard, I believe the BBQ Awards remain an important endeavour in supporting our business community."
The winners of the 13 category awards were greeted by uproarious applause:
LTE Holdings Best Established Black Business Award: Travel With Flair (a black-owned South African travel management company)
Hennessy Businessman of the Year Award: Calvin Mathibeli (CEO of Calvin and Family Group)
The Innovation Hub New and Innovative Business Award: Geekulcha (a development platform for South Africa's leading young tech minds)
Comair Outstanding Woman in Business Award: Fatima Vawda (Founder and Managing Director of 27four Investment Managers)
Ledwaba Mazwai Attorneys Public Sector Visionary Award: Chief Justice of South Africa, Mogoeng-Mogoeng
Emperors Palace Community Builder of the Year Award: Lindiwe Matlali (Founder and CEO at Africa Teen Geeks)
Kaya FM Transformation Champion of the Year Award: Coega Development Corporation (State-owned company specialising in industrial development)
Topwatch Best Employer of the Year Award: Buna Projects and Consulting (a multi-disciplinary company specialising in engineering and full turnkey projects)
KIA Young Business Achiever Award: Emmanuel Bonoko (Founder of Ebonoko Foundation)
New Entrepreneur Award: Inga Vanqa (Principal Director at Inga Vanqa Quantity Surveyors and Project Managers)
CSI Ubuntu Award: Youth Leadership and Entrepreneurship Development (an organisation that assists youth on their academic, social, entrepreneurship and career paths)
Iqhawe Mentorship Award: Felleng Yende (CEO of FP&M SETA)
Big Time Strategic Group Platinum Award: Felleng Yende (CEO of FP&M SETA)
The BBQ Awards are South Africa's longest-running and most prestigious transformation awards.
Award winner and balladeer Vusi Nova gave a resounding performance as he wrapped up the evening that saw young and old hitting the dance floor unhindered and Hennessy cognac flowing.