It would take seven to 10 years for the community of Okhahlamba Local Municipality to see the Drakensberg cable car project up and running.
The project, with a cable length of about 3km, first mooted in 1994, was met with criticism from the political front when it was anno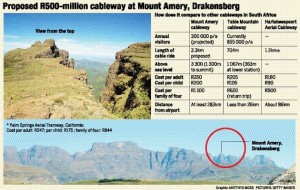 unced.
During a media briefing at Alpine Heath Resort in the Drakensberg on Saturday, director of social and economic services at the municipality, Thulani Mazibuko, said the project would be a game changer for Drakensberg tourism, which fell under the Okhahlamba Municipality.
Mazibuko said the municipality and tourism stakeholders in the area took a tour to Cape Town's Table Mountain and Magaliesberg to see how these cable cars worked.
This was after Economic Development and Tourism was criticised about a R1.1 million jaunt, which was later cancelled, to countries to view how their cable cars worked.
The Daily News reported in January that the department had planned to send officials to Cape Town's Table Mountain, Australia's Cairns Skyrail, China's Huanshan Cableway, Masada Cableway in Israel and Switzerland's Blatten Cableway.
At the time, department spokesman, Bheko Madlala, had said the tour was intended to gain a "first-hand account" of how cableways operated, particularly those in eco-sensitive areas.
On Saturday, Mazibuko said: "We envisage that in seven to 10 years from now, this cable car will be a project on the ground. We need to take into consideration that the environmental impact assessment can take up to two years."
He said they wanted to ensure they did not lose the tranquillity of the area, "so the car will be as quiet as possible".
"The project has been talked about too much, but there was lack of political will and certain opposition contributed to the delays in moving ahead with the necessary groundwork," he said.
Mazibuko said those criticisms were part of the attempt to "derail" the project.
"Change is inevitable. In our society, there are three groups of people – those who welcome change; those who opt to wait and see, and those who come out straight against change. Proper consultation was done and all the concerns were addressed.
For example, there was a concern that the project will tamper with a heritage site, which was misinformation. This cable car will be near a heritage site and therefore there will be no disruptions. Other countries have built these cars on heritage sites," he said.
Chris Hearne, chairman of the Drakensberg Experience Tourism Association, said the project would ensure long-term benefits for the Okhahlamba community and stimulate the province's tourism sector.
"Tourism is the biggest sector and biggest employer in Okhahlamba, and therefore the cable car will do wonders for the area. It will add to other attractions such as the foefie slides, Bushmen Rock art, Zulu culture, Anglo-Boer War history, hiking paths and many other adventures," he said.
A feasibility study, which was made public last July, found that it was possible to build the car near a heritage site in Busingatha at Mount Amery, and Ithala Bank was appointed as the developer.
The project was given the go-ahead by the provincial government in February last year.