CAPTAIN MORGAN Rum is excited to be a proud partner to Oh Ship 2017.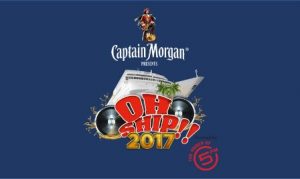 This is the first collaboration of its kind for the brand and is guaranteed to be memorable.
"Captain Morgan is about being the champion of fun and building a life of rich experiences, which is why we believe this partnership is a great fit. We're thrilled to be on board to provide an unforgettable experience," says Captain Morgan Brand Manager, Brenda Ncube.
Aboard the luxurious MSC Sinfonia from South Africa across the Indian Ocean to the exotic Islands of Mozambique, it revs off from December 1 to 4 2017, in the company of usual suspects DJ Fresh, Euphonik and others.
Two weeks ago Joburg in Braamfontein, Captain Morgan hosted the pre-party were guests and revelers came in big numbers to officially welcome this favourite rum on board.
Oh Ship has been made popular about years ago were revelers from all corners of the country come and play and dance- of course- to music 72 hours non-stop.
A deposit of R3000 per cabin is required to secure your spot.
Venue- The MSC Sinfonia Cruise Ship
Durban – Portuguese Island, Mozambique – Durban
For more information go to: www.ohship.co.za