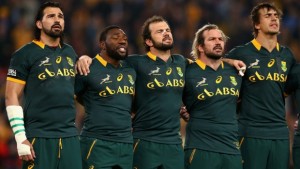 Cosatu is to embark on international campaign to expose racism still plaguing the sport.
Following weeks of poor showing by our Boks-who for the first time lost to Argentina- it seems cracks are beginning to show as early as before the rugby World Cup in London.
At the center of controversy is coach Heyneke Meyer, who is alleged to have favourites in the squad and the name bandied around is of captain Jean de Villiers.
Termed "Heyneke's white favourites" by trade union, Cosatu's provincial secretary, Tony Ehrenreich, said on Monday the lack of black players in SA rugby teams had reached a crisis point, especially after Saturday's debacle.
"The team only had two black South African players in the starting line-up. No other team could possibly perform worse than this team and we insist that a more representative team be picked for the next game."
Ehrenreich said Meyer did not have the national interest at heart, and said the coach "demonstrates a sense of arrogance in disregarding the interest of the majority of South Africans, by treating SA rugby as his private fiefdom".
"When coach (Peter) De Villiers led the team, the white establishment was quick to criticise him, yet there is a deafening silence now. There is a white cabal which still tries to control the rugby team and who gets to play in it. They must be told in no uncertain terms that this Springbok team belongs to all South Africans and should reflect all South Africans," Ehrenreich said.
Ehrenreich called on Sports Minister Fikile Mbalula and the rugby fraternity to attend to this matter.
"We want the coach removed and a more representative team selected that represents all the people of South Africa."
Five black players' are reported to have questioned the matter but were not entertained. Two white players are alleged to have questioned the matter as well.
On the pitch, the Boks should try and redeem themselves as they prepare for an epic battle in London. Amen!