He fances his resume aspirations in the equestrian showpiece of the 52nd edition of the Cell C South African Derby show-jumping event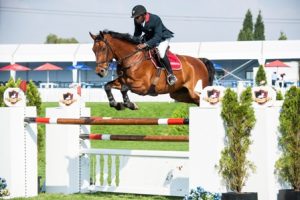 billed in its particular retinue as a 'must win' calendar highlight – penciled to come to pass at the Kyalami Equestrian Park on September 30 2017.
One of progeny of three Ncube, part of Team Nissan's show-jumping team, has his outlook shared and, all at a go, divided with his fondness for music – going into an event at which spectators will see him a warm blood named Top Bet Lord Abendorp.
If the preceding stanza reads Hieroglyphics, Ncube would also be tolerated for stumbling into a mainly elite sport at the tender age of 7, consequent of his mother working for a lady who happened to own horses.
Recalling the destiny-streaming moment, Ncube had the following to pore over, "I had the privilege of being taught by her and my passion for show jumping was ignited I decided then that I wanted my career and future to circulate around horses. My motto in life is, "Ungahleki omunye ngoba kusasa nguwe" – which translated from Zulu means, "Don't laugh at someone, because tomorrow it might be you".
The professional athlete's team will be competing in the Micro Derby of the title Derby – which will see jumps standing at a very impressive 1 meter 35.
Top Bet Lord Abendorp, which will be Ncube's mount, will also be the horse's first Derby.
"My preparations have been going very well especially considering that I haven't ridden him for very long, but he's such a good horse that he makes my job a pleasure! As for the main Cell C SA Derby at 2pm on Sunday 1 October, anyone could win that as there are many great horse and rider combinations at the moment and it'll make for an interesting watch.
In terms of improving the sport, there is still a lot to be done; we need a lot more sponsorship. The development programs are going well, however, what I would like to see, is to bring the sport to the people so that everyone in South Africa can experience it and in time understand it!"
Listing his greatest assets as 'being an observer', Ncube offered that he always thought: "I like to observe, to listen to every one's idea. It doesn't matter if the person is an amateur or professional, there is always something you can learn.
I love Derby; it's the atmosphere – it's just different to our usual shows and is such a fun event! I urge everyone to come and watch, especially with free entry during the week."
Intoned Team Nissan show jumping skipper, Barry Taylor, "his greatest attribute is that he is a team player, and I reckon his only major challenge is that sometimes he can be a bit hard on himself.
The horse he will be competing on is very brave and careful and has enough experience at 1.35 level.  What might be his weak point is his lack of experience at derby type jumps and the big grass arena as it is his first derby.
My advice to Oscar is to take the show one day at a time. Try and finish in the top 20 in each qualifier and that means trying to jump clear each day. Once he has qualified on the big day, you have as much chance as anyone else – he needs to be streetwise!"
A not to be missed affair, the Cell C South African Derby is the toughest show jumping challenge and thus, the most sought after title on the equestrian calendar.
The 18 obstacle, 1200m course is only ever won by the horse and rider combination that is the fittest, the most focused and the most on form on the day.
Attended by over 5000 people, the event is wont to witnessing the who's-who's of the fashion and riding realms rendezvous for a spot of welcoming hospitality, family fun and equine excellence.
Title sponsor Cell C's Head of Marketing's Dough Mattheus elaborated, "We are proud to be supporting this iconic and thrilling equestrian event. It celebrates high performance and community, and we look forward to being a part of it. We wish all the riders the best as they prepare for the Cell C South African Derby 2017."
Whilst chairman of the venue, the Kyalami Equestrian Park, Jan Kleynhans, expressed his delight in welcoming a new sponsor to the sport, "We are delighted to have Cell C as the new title sponsor of the SA Derby this year. Our fascinating sport requires the support of major sponsors and Cell C now bring a new level of excitement and further interest in furthering the aims of equestrian sport in South Africa.
The SA Derby, hosted by Kyalami Park Club, is the major event in our calendar and I'm sure this year with the support of Cell C will again deliver a thrilling crowd-pleaser by the riders and their supremely talented horses."
The event's hosts promise an experience which continues to grow in the stands, arena and all around in popularity; an experience which will leave the horse lover wanting more – where the best horse and rider combinations on offer on the African continent, deserves to be witnessed live!
Ticket Prices:
Saturday, 30 September: R50 – R100 [depending on seats]
Sunday 1 October: R100 – R600 [5 price-ranges available: R100, R150, R200, R250 & R600].
Tickets will be available on TicketPro and discounter weekend packages are available.
Highlights Schedule
Saturday 30 September:
08:30 – Cell C 1.35m Derby Classic [Show Jumping]
11:00 – Cell C 1.40m 2017 Mini Derby
Sunday 1 October:
9:00 – Showing and Dressage classes
10:00 – Cell C 1.35m 2017 Micro Derby [Show Jumping]
14:00 – The Cell C 2017 South African Derby