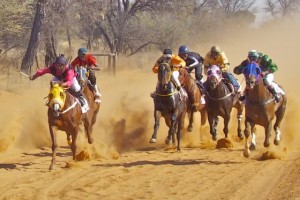 This is the desert horse race, attracting about 3 000 visitors to watch professional race horses compete with farm-trained mounts in a 2 000-metre race over red desert sand.
Bray is about 220 kilometres from Vryburg North West province (a border town between South Africa Botswana and Namibia).  It is a tiny 'frontier post' town in a blisteringly hot (and ice cold at night) acacia tree dotted savannah/semi-desert of the Eastern Kalahari, with only two dusty streets, a store, a pretty white-washed church (always a pretty church in South Africa), a fuel station, some RDP houses, a camping lodge and a couple of guest houses. Aha…
It races off on June 27 2015. But that's where the confusion reigned in.
At the media brief some of the event organizers were not sure about the date, until I had an interview with the founders of the Bray racehorse.
To my amazement, me thought it was due to take place in July hence the "Bray July horserace" but it was only confirmed for June next weekend, leaving reporters even more confused.
For the first-time, the North West Department of Tourism came on board to help increase the brand equity for the event, and according to MEC Desbo Mohono such events need the support it could possibly get, because it cannot compete with established brands such as the Durban July.
"KZN has an Indian Ocean and North West boasts mountains. That's the difference between these two provinces," says Mohono, who said they will support the event though she was non-committal for how long.
As part of the provincial government's vision 2030, the core mandate is to revitalize, improve the economy of dorpies, rural areas and townships, hence the involvement of the department, continued MEC.
Bray horseracing was founded by rugby star Frik du Preez in 1997; and what started out as an event in which the locals raced against each other, has since turned into an international horse race, with a sizeable prize package of R80 000, sponsored by Phumelela Horseracing Association.
It is supported by neighbours Botswana, Kuruman, Ganyesa, Vryburg, Kimberley, Schweizer-reneke, Bloemhof, Taung, Jan Kemp Dorp and other neighboring villages and towns.
So, bring along your camping stuff and steel cups for an adventurous weekend, since this is an experience for the tourism, outdoor life and camping fanatics with a life away from everything.