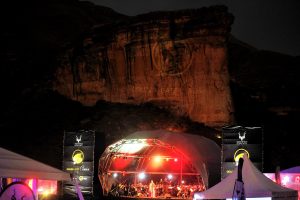 As grey clouds gathered, whispering chill engulfing on your face and mountains rejoicing in thunder, animals went berserk. Well folks, welcome to the Golden Gate Highlands National Park in the Free State Province.
The occasion: top celebrate the second edition of the Golden Gate Classics last weekend. Yes, it was a case of Jazz meeting up with Orchestra right inside the park, that is owned and managed by the South African National Parks. Surprised not- livid yes, that's until…
With the soothing sounds of nature making for a perfect paring with rhythmic smooth jazz and classical music that serenaded guests in the foothills of the Maluti Mountains, it poured heavily on Saturday evening but guess what, guests and campers were not deterred by the weather, instead they danced and got merry the night away- believe or not, thus prompting a punch-line comment from the CE of SANParks Fundisile Mketeni "this is what nature does to a human being".
Nduduzo Makhathini, recipient of the 2015 Standard Bank Young Artist Award in the category of Jazz and SAMA award winning pianist and composer, opened the Friday's gig in the company of the soulful and lyrical jazz vocalist Lindiwe Maxolo.
Musical genius and broadcaster of note NomShado Twala was the MC for the evening. She had a glass or two with fellow friend and jazz lover, Metro FM's Nothemba Madumo, who kept me in check as we made our way to the astounding Golden Gate Highland Park on Friday morning.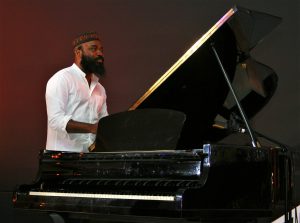 Saturday night boasted a concert and a melodious line-up of Classical musical talent. The artists comprised of one of South Africa's most vocally versatile classical performers Aubrey Lodewyk and Germany based soprano, Caroline Nkwe.
Over 300 guests- that included patrons from nearby Clarens- a small town that was beaming with both local and international visitors, sang along melodically as animals gazed unapologetically from the sounds of Gauteng Opera accompanied by a strong 40-piece Symphony Orchestra conducted by the exceptional musical director Kutlwano Masote.
Meeting up with Mketeni after hiatus while still a manager at the Kruger National Park, for 7 years, he describes himself as a 'ranger with formal education in conservation'.
Asked why disturb the peace and tranquility of the park by bringing all kinds of instruments, "environment, people and animals are all attached, this is called reconnecting with heritage" was his response calmly.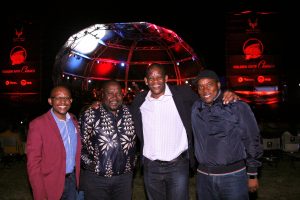 "Check most, if not all the equipment's used, they're either wooden or some of the animal skins are used in some of the instruments. So, we're not endangering our nature but appreciating it. It's called reconnecting with our heritage," says Mketeni gleefully.
Also, don't' forget the traditional medicine we use comes from this kind of nature, hence taking pride in our heritage, he added.
On the significance of the concept he indicated its three-fold: diversify the products by inviting black industrialists and youth to be part of the SANParks system; grow revenue; and communities were SANParks operates should and must benefit greatly, he pointed out.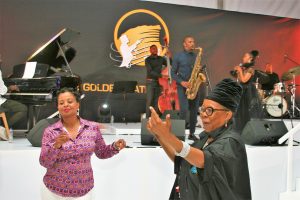 The future, continued Mketeni: "Is to untap the younger market to visit our parks and more especially the Golden Gate Classics event in the coming years'. That's our marketing strategy because SA is the ageing market standing at 75%.  Music is culture hence we want to engage the younger market in embracing it through such concepts.
History has it that when the Cape Town Jazz was launched it seemed uninteresting to some but today it's a world class event that draws international stars to its shores. That's the route we want the Golden Gate Classics to take."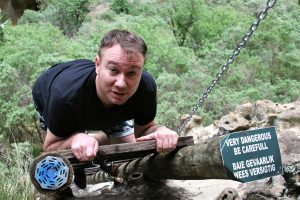 SANParks managing executive: Tourism Development and Marketing Hapiloe Sello, says: "This year our aim was to surpass the success of 2017 and we are proud to have achieved that. The Golden Gate Classics is a musical event like no other in South Africa. There are several jazz and classical music events in the country but none can boast the majestic outcrops of the Brandwag as backdrop.
This was a magical and very exclusive weekend of musical indulgence. With the high turnout this year and greater demand for tickets we are setting the bar in entertaining music lovers whilst exposing them to what our beautiful park has to offer."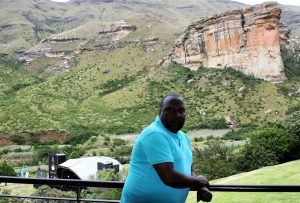 SANParks is a global leader in conversation although Eurocentically, some regard it more about animals, etc. "That's a wrong perception and through this great concept of ours, we will use the Golden Gate Highlands Park as a classical example were water flows from mountains, activities such as horse-riding, quadbikes do take place," said Mketeni with a tongue-in-cheek.
The interview was preceded by horse-riding (my first- FOMO dololo), rock climbing and a drive to Clarens for a refill (forbidden waters), however, it made no sense passing the Basotho Cultural Village just like that, that was en-route from the park to Harrismith as we headed back home on Sunday. Ai…
As one of the managers 'Victor' pointed out one must revisit this place one more time, or kanjani– Reynold "Rey" Thakuli?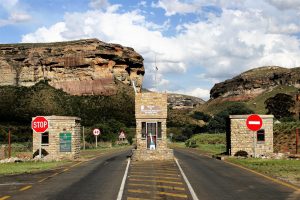 For more information and accommodation details go to www.goldengateclassics.org