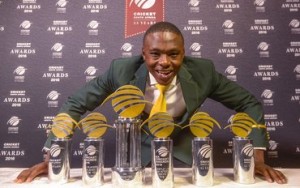 The 21 year old hit the record for a six after being named South African Cricketer of the Year and in all received a total of six awards at a glittering Cricket South Africa (CSA) awards banquet at Sandton Convetion Center on Tuesday evening.
The Joburg born Rabada, was named Castle Lager Test Cricketer of the Year and Castle Lager ODI Cricketer of the Year, was honoured by his peers by being named SA Players' Player of the Year and by the fans on being named SA Fans Player of the Year.
He received his sixth award for bowling the RAM delivery of the Year to England's Jason Roy in the KFC T20 International at the Bidvest Wanderers Stadium.
This is a history in SA cricket ever to be written by the youngster.
The soft speaking lad in his thank you speech; said he's dedicating the awards to fans, friends, teammates and management at CSA for allowing him to do what he enjoys best.
"I could not have done it with them, hence this opportunity to thank every individual who played a role in shaping my cricketing career, thus far.
Finally, all this would have not happened without my family, who are attending the awards ceremony. Thank you for being supportive through thick and thin," he said much to the applause from the packed gallary that featured cricket icons such as Makhaya Ntini, Dr Ali Bacher, Paul Adams, CEOs and other dignitaries.
"KG" is the first player to win six individual awards – both AB de Villiers and Hashim Amla had previously won five – and at the age of 21 years 62 days is by far the youngest to have won South African cricket's premier accolade.
The other eight players to have received CSA's most prestigious award are Jacques Kallis (2004 and 2011), Makhaya Ntini (2005 and 2006), Hashim Amla (2010 and 2013) and AB de Villiers (2014 and 2015) who have all won the award twice with the other previous winners being Shaun Pollock (2007), Dale Steyn (2008), Graeme Smith (2009), and Vernon Philander (2012).
The Oxigen T20 International Player of the Year award went to Imran Tahir and the KFC So Good award that went to Temba Bavuma.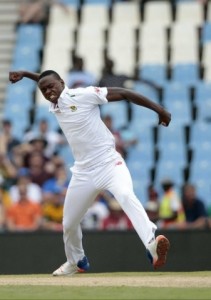 That Rabada managed all of this in a time when South Africa were also without two of their experienced seamers – Dale Steyn and Vernon Philander were both injured for large parts of the previous summer – only added to Rabada's achievement.
"With injuries to our main fast bowlers during this past year, he has had to step up and lead the attack. How brilliantly has he done that," Haroon Lorgat, CSA CEO said.
A question is having displayed such an incredible work rate, will "KG" be touted by international teams? Your guess is just good as mine…
At the time of publishing well wishing messages were still streaming in.
Kudos and high fives, KG!
Other Awards Winners:
Professional Awards: National
International Newcomer of the Year:                                      Stephen Cook
Momentum women's Cricketer of the Year:                            Dane van Niekerk
Professional Awards: Domestic
Sunfoil Series Cricketer of the Season:                        Heino Kuhn (Multiply Titans)
Momentum One-Day Cup Cricketer of the Season:    Alviro Petersen (bizhub Highveld Lions)
RAM SLAMMER of the Season:                                    Albie Morkel (Multiply Titans)
Pitchvision Coach of the Year:                                        Rob Walter (Multiply Titans)
Domestic Players' Player of the Season:                       Heino Kuhn (Multiply Titans)
Domestic Newcomer of the Year:                                  Nicky van den Bergh (bizhub Highveld Lions)
Africa T20 Cup Player of the Tournament:                   Lungi Ngidi (Northerns)
CSA Fair Play Award:                                                       Cape Cobras
SACA Most Valuable Player Award:                                 Dwaine Pretorius (bizhub Highveld Lions)
Professional Award: Operations
CSA Groundsman of the Year:                                        Bethuel Buthelezi – GCB
CSA Scorers' Association of the Year:                            Gauteng Cricket Board
CSA Umpires' Umpire of the Year:                                 Adrian Holdstock
CSA Umpire of the Year:                                                       Adrian Holdstock