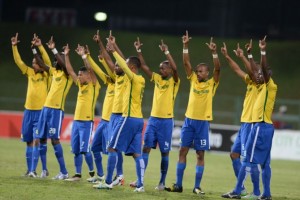 Yes, the Mamelodi outfit is 2015/16 Absa Premiership champs following a resounding victory over hosts Tuks 3-0 last night.
They've won the league honors seven times –that is testament to the club's 7 hand sign, a history that only then coach of the club Ted "Mr Magic" Dumitru achieved.
Despite being dramatic and giving off the cuffs comments coach Pitso "Jingles" Mosimane and technical led ably by the down to earth team comprising Manqoba Mngqithi, deserve kudos for transforming the team to be what is it, under tough and at times, compromising conditions.
This after losing out in the CAF Champions League, Brazilians will now focus on the CAF Confederation Cup fixtures.
On the management side, the club has been well managed with little interference as opposed to previous encounters.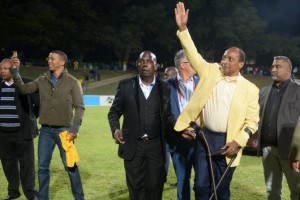 Also, it must be pointed out that they made worthwhile signings and the mining mogul Patrice Motsepe (who was limping during the celebrations at the stadium last night) should be congratulated for being rigid and coherent in believing in "Jingles" when the odds were stacked against the coach. Yes, you remember well that incident when fans were baying for his blood…
But now all that has been forgotten; and it remains who will cut the list and which players will be added for another bumper-packed, strenuous season for the champs.
Yes, football is weird in that it does not conform to superlatives such as "therefore or should have" as the great former Motsweding FM's commentator and now SABC sport honco Aubrey Motloung would attest.
In congratulating the winners' Bobby Malabie, group executive for marketing and corporate relations: Barclays Africa, says:" On behalf of Absa, I hereby extend our congratulations to the club on its outstanding performances during the 2015/16 Absa Premiership campaign and applaud the players, coach, management and supporters for contributing to the team's success.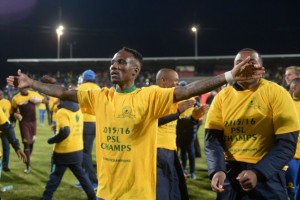 "Mamelodi Sundowns have consistently demonstrated that winning football can also be stylish and attractive. They successfully combined their flair with passion, commitment and determined focus in relentlessly pushing for the trophy they have already lifted on six occasions.
Their memorable 18-match unbeaten run in the middle of the season when they scored some incredible goals even had opposition fans applauding their brilliance."
PSL have announced that the Absa Premiership Trophy will be handed to the champs on the last weekend of the 2015/16 Absa Premiership season.
Menwana Phezulu! Hail the champs!