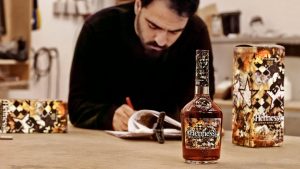 This will be in form of a Very Special Limited Edition bottle that the artist has designed for the market-unfortunately for limited period.
"Vhils" a Portuguese born- will as part of his worldwide tour beginning in mzansi from July 23  to 26, celebrate the collaboration with this special Cognac brand.
In continuing his theme for the 2018 Very Special Limited Edition bottle, the art-world phenomenon will bring to life the art of 'Making the Invisible Visible' with the construction of a South African icon who has embodied the spirit of Hennessy, Never Stop. Never Settle.
Last year the likeable Jon One's work was solicited to put work on the French distillers' iconic glassware- as part of its special bottles commissioning worldwide.
The Hennessy Very Special Limited Edition by Vhils (750ml) will be available for purchase from July 2018 at retailers nationwide.
No retail price was given at the time of publishing.