"I'M GOING TO intimidate you, provoke you and make you feel discomfort," says the no-nonsense Mbuso Khoza.
He was addressing audience at the Soweto Theatre, as part of the third "Isandlwana Battle Musical Lecture", that runs from May 26 to 30 Sunday.
Mincing no words, the celebrated award Jazz star and vocalist Mbuso, said if we've forgotten our history, irrespective of any nation, we are doomed as the country; because colonisers will continue to dominate Africans, from derogatory labels such as 'Baas or Madame'.
The only race or colour that can, and must change, such a narrative is us 'blacks' umntu o mnyama.
Being African means different things to different people, alluded Khoza, who said for him it echoes principles.
"To me, being African means values, and unity," much to the applause from the audience that braced the chilly weather to experience once again this reverting musical lecture.
The full bearded Khoza, is accompanied by the Afrikan Heritage Ensemble, a 20-member a-cappella group, whose purpose is to bring to life the true-life events of the Anglo-Zulu War, through narration, song and dance, as we continue to commemorate not celebrate Africa Month.
The ensemble will also explore the relationship between Amahubo and the songs of Struggle.
The historical Battle of Isandlwana on 22 January 1879 was the first major encounter in the Anglo-Zulu War between the British Empire and the Zulu Kingdom. Eleven days after the British commenced their invasion of Zululand in Southern Africa, a Zulu force of some 20,000 warriors attacked a portion of the British main column consisting of about 1,800 British, colonial and native troops and perhaps 400 civilians. The Zulus were equipped mainly with the traditional assegai iron spears and cow-hide shields, but also had a number of muskets and antiquated rifles.
This is celebrating African freedom from foreign exploitation and the Battle of Isandlwana, he says.
"Over five-and-a-half decades ago, Africa came out to exhibit their determination to free itself from foreign exploitation and domination and declared May 25 Africa Day.
"As we celebrate this momentous occasion, we thought it to be an opportune time to bring the biggest African victory to the stage of festivities and have our Isandlwana Lecture presentation during this month.
"The Battle of Isandlwana is a story of pride not only for the Zulu nation of South Africa, but for the continent as it marked a new era for us and its colonisers," continued Khoza.
He says, as Africans, we have stopped to think for ourselves, and therefore, we have lost the sense of who we are as a nation of great thinkers and inventors.
"We've been colonised a lot. Even our parents, most of them don't know who they are. We have become a ritualistic nation, you want blessings, you have to kill a cow, you want this you have to burn impepho.
"But now, when are we going to ascribe logic in our cultures and say, to a young boy, a young girl, 'when you are faced with difficulties in life, instead of burning impepho and killing animals, have you tried at least ten times and then realised, oh, maybe now spirituality needs to take its place?
"Every weekend, we kill animals, we have less time to think, to reason as Africans. To ask the question, 'who are we?"'
I' did say, I was going to make you uncomfortable, as he went for jugular.
He reminded African people that they have invented culture, so therefore, if it doesn't work, they can always amend it.
"We also need to remember that culture is a man-made thing. It means, as a human, you are the designer of the environment, designer of character, of the world because in isiZulu we call it igumbi lo mhlaba.
"This means that these cultures that are dehumanising other people can be changed in the modern day."
"If my culture becomes slavery to another person, there's something wrong. It means as Africans, we need to offer the new value with a new understanding of our heritage and culture."
But he also lamented that firstly, we must get our land back, and hopefully that narrative will change for the better, he said with conviction.
Khoza seeks to honour the "Isandlwana Battle Musical Lecture", the lives of Zulu patriots like Ntshingwayo ka Mahole and Mehlokazulu ka Sihayo, since they were the first men who were at the epicentre of the savage Anglo-Zulu War, which is now a famous historical event.
But again says Khoza, this does not mean the lecture is about isiZulu only, other nations such as Batswana, South and North Sothos, Venda, Tshangaan and Xhosas, were affected and some played a part in this historical battle.
He said as a result, he's engaging with the Vaal University to map out a plan to create a BaSotho play, as part of remembrance, and the role they've played or contributed in the country from historical point of view, he told this reporter exclusively.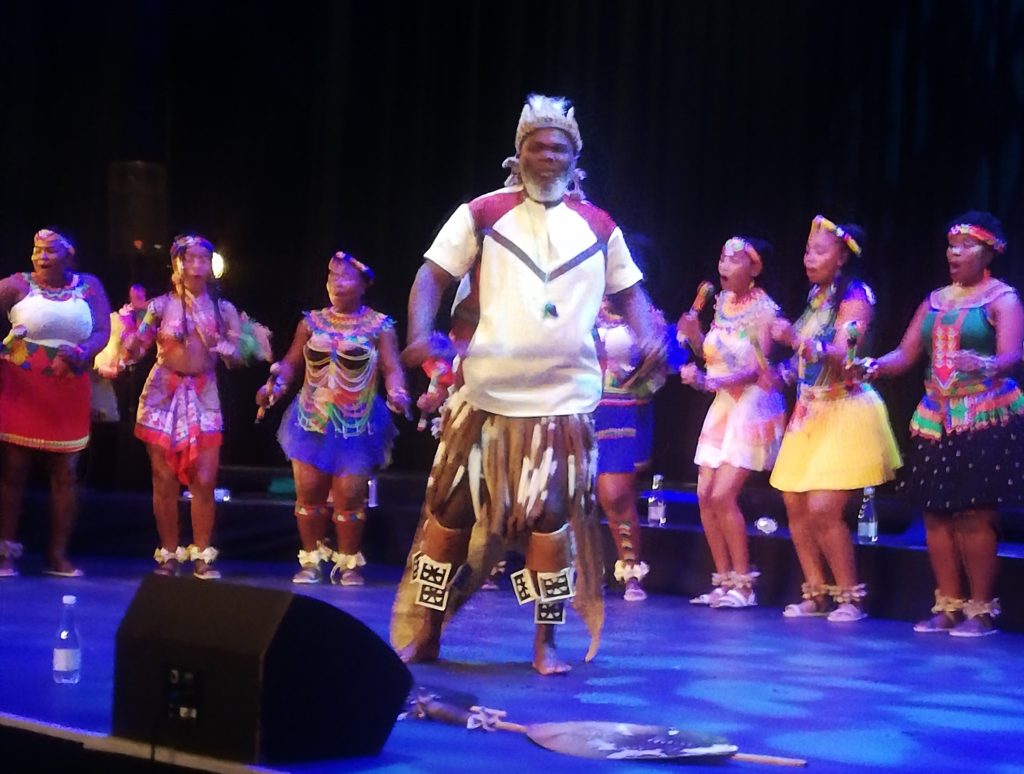 History comes in as an intervention to record later cultures and traditions.
"So it's very important therefore that we align ourselves as Africans around the knowledge for self.
"Africa month should be about the revival of knowledge for self."
Although he decried lack of support since its inception in 2015, Khoza emphasised the 'show must and will go-on'.
Speaking to this reporter after the show, Khoza said the unfortunate pandemic resulted in the performance of their income streams being affected dearly, but noted some progress has been made through hosting the lecture in Soweto.
"Its my dream to branch out to all regions of our beautiful country to share and experience with our communities, especially young-ones, what the musical lecture is all about. As indicated our people should know this is not about Zulu, but US as Africans and diversity we espouse," he said.
Tickets to the "Isandlwana Battle Musical Lecture" are selling at R150.
It wraps up this Sunday 30- so get your tickets NOW.
Mbuso Khoza does punch from below the belt, have a thick skin. YOU'RE WARNED!
Images SLM (Uncompromising Mbuso Khoza gave a thought-provoking performance at his Isandlwana Battle Musical Lecture in Soweto. It runs until Sunday 30).