FOR THE sixth year of Jameson First Shot, three undiscovered filmmakers will be provided with the opportunity to direct award-winning British actor and director Dominic West in a short film that they will write and direct.
Dana Brunetti, who has produc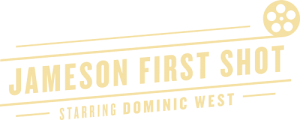 ed multiple award-winning movies for film and television, will sit alongside each the winners on set, providing them with support, guidance and input when needed to ensure that they make the most of this incredible opportunity.
The Jameson First Shot film competition is all about giving talented filmmakers the opportunity of a lifetime, a first step in an industry that can be notoriously difficult to break into.
Entrants living in the following countries are all eligible to enter SA, UK, US, Ireland, Canada, Bulgaria, Australia and Israel.
'At the heart of the Jameson brand is the motto Sine Metu, meaning 'without fear'. It's a motto that exists to encourage people to be open to new people and new experiences – to being themselves and taking the road less travelled.'
In 2015 South Africa's The Mascot won the prize.
The competition details having opened worldwide on April 2017, can be found at http://www.jamesonfirstshot.com