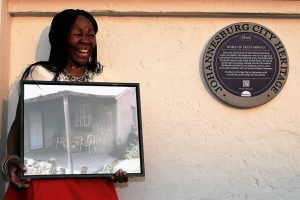 In partnership with the City of Joburg Immovable Heritage department and the Johannesburg Heritage Foundation, Heritage Ways honoured house number 1670 on Molahloe Street in Orlando East, with a Johannesburg Heritage Site Blue Plaque.
Under the title, Home of Letta Mbulu, the plaque reads: This is the family home of international recording artist, Letta Mbulu. 
She began her career at the age of 13 performing with the Swanky Spots at the Donaldson Hall.  During 26 years of exile in the United States, she toured extensively, becoming a cultural activist.  Her musical collaborators include Harry Belafonte, Quincy Jones, Cannonball Adderley and her husband, Caiphus Semenya.
It concluded with the description: Unveiled on Heritage Day 24 September 2018, to mark the 75th birthday of Letta Mbulu.
The 'Not yet Uhuru' crooner has come a long way in both her musical and life journeys, and the day's events were the culmination of observations of her legacy, which incorporated an honorary  lecture delivered in Parktown the previous day and a fun walk which preceded the unveiling ceremony.
With the honour forming part of this year's Legacy Events, the structure was recognized as being a cradle which nurtured a national treasure.
The occasion was also to note the Order of Ikhamanga recipient's artistic endeavours over the years – by the Road to Independence and the National Liberation Route. The abode, now a bigger, modern structure which underwent drastic transformation from how it was before Mbulu left for her lengthy sojourn in the United States, joins the ranks of the Mothopengs in Orlando West and that of Charlotte Maxeke at Kliptown, in being recognized thus.
Explained Soweto-based Heritage Ways' heritage researcher and strategy developer, Tshenolo Mokhele, "Where Mama Letta Mbulu grew up in Orlando East is a place that will be credited as a Mother of all townships under the leadership of the late great civic leader, Mr James Sofasonke Mpanza, who in the 1940's led the struggle of land grabbings."
"Materials such as the Letta Mbulu site must also be considered for future inscription into the national liberation Route Register of Sites," added Mokhele.
In the press release made available ahead of the weekend's celebrations, the icon was quoted as referring to the location of her childhood as being known as, Plantation – a place she reminisced of as holding many wonderful and sad memories pending the difficult period of Apartheid brutality.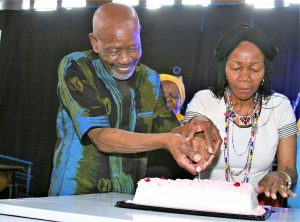 Mbulu grew up at the address with her mother, brothers and aunt. She also reflected upon how her brothers were chased by police for pass-books and of how, at age 13, she lost a brother who had been taken to Leeuwkop prison, where he got shot and subsequently died.
The oppressive system then rubbed salt into the family's wound by refusing to release his body – resulting in her mother having to obtain the services of a lawyer, in order to let the authorities relent.
But there are also great memories she cherishes, she said – like the one of growing up in a musical family where both her mother and aunt indulged in the sonic pursuit.
The abiding musician thanked God for her gift and simultaneously acknowledged her mother's nurturing of it.  She remembered her neighbourhood as being one of camaraderie and credited a man named James Mabena as being the one who discovered her as a singer.
The people of this country [South Africa], she said, made her aware that she had something special because every time she performed, they applauded and approved – thereby instilling confidence in her.
Referring to the productive period of time she spent in the US, Mbulu intimated that while Americans just put a stamp on her stellar career – it was the people at home who saw her grow up and ultimately bestowed the confidence in her.  She went on to declare that Orlando is her heart and that she would always be drawn to the location given that her umbilical cord is there!
But of course, the day was not only about the brick and mortar, as festivities in celebration of another milestone in the septuagenarian's biography went swellingly down at the Orlando Communal Hall.
The still sprightly birthday girl, donning a lengthy traditional frock, was surrounded by long-time friends such as former South African High Commissioner, Lindiwe Mabuza, as young songstress, Thembi Khumalo serenaded her and guests with her well-known standards such as Jikijela and Music in the Air – to appreciative applause!
Her husband, impresario, ntate Caiphus Katse Semenya momentarily joined her in front of the stage for a cake-cutting call, whilst fellow musos and saxophonists, Steven Dyer and Sipho Mabuse, as well as City of Johannesburg MMC for Community Development, Nonhlanhla Sifumba, looked on beaming.
The goings-on at the hall were a colourful spectacle with guests splashed out in a delightful plethora of tribal costumes and gear, whilst high-kicking dance troupes and drum majorettes combined with musical items to keep attendees well and truly entertained.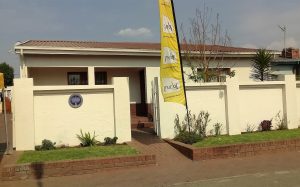 Later on in the long weekend Spring afternoon, the celebrant, husband, family and friends drove back to the family home to continue on with celebrations within more private and intimate confines.
Upon arrival, Mbulu pulled out a framed image of how the house looked like many years ago, before it was refurbished, out of a sedan.  She then proceeded to show her buddies and also obliged souvenir hunters snaps of her next to the new plaque.
"You think so?" she quipped, when the author of this piece put it to her that she's been blessed with the sort of good genes which made her girlish figure belie her advanced age.
She then sashayed inside with Mabuza and bottles of bubbly following!