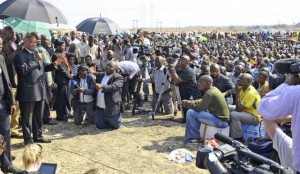 The recommendations include calls for an inquiry into the fitness to hold office of national police commissioner Riah Phiyega and North West provincial police commissioner Zukiswa Mbombo, whom the commission blamed for the decision to implement a defective tactical plan on August 16, 2012, which led to the death of 34 miners.
"The release of this report of a Judicial Commission finally brings to light the truth around this tragic incident. We further trust that it should bring our nation a step closer to healing," ANC spokesman Zizi Kodwa said.
"This tragedy cannot be used to further divide our country, if anything we should seek to unite our people to ensure that such never happens again."
The ruling party said government should urgently implement the recommendations – which also include that the National Prosecuting Authority probe whether anyone should be criminally prosecuted.
The Democratic Alliance said it expected Zuma to make good on his promise to ensure corrective action was taken.
"Indeed what we would ask for and expect that these investigations into both the national police commissioner and the provincial police commissioner should be done diligently and as speedily as possible," said DA MP Sej Motau.
Motau said he was not surprised that deputy president Cyril Ramaphosa, who was a director of the Lonmin mines during the unrest and had sent an email to the company calling for "concomitant action" to address the violent strike, was absolved of wrongdoing, adding that Zuma could not escape accountability.
"I'm not surprised, but I know there will be many, many people who are relatively unhappy because there was some expectation that someone will be held accountable…," said Motau.
"When anything happens in this country…people look at the head of the country for direction and guidance and contrition and that's the kind of thing we expect and he [Zuma] should take some responsibility."
Meanwhile, Lonmin has also welcomed the report and says its recommendations and findings should be adhered to.