MESSAGES OF well-wishes continue to pour in for umama Winnie Madikizela Mandela.
Today it's her 81st birthday.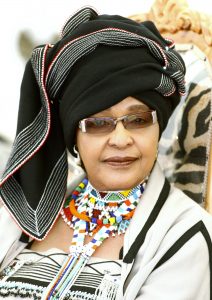 The struggle icon and former wife of the late ANC leader and first democratically elected president Dr Nelson Mandela, has been praised for being the unifier that is troubling her organization and government led -the African National Congress.
Many regard her as the mother of the liberation struggle as she often assisted many freedom fighters during Apartheid.
Madikizela-Mandela was often detained by Apartheid police for her activism. She headed the ANC's Women's League and she has been a Member of Parliament since 1994.
She has also held a ministerial position.
Many of the messages wished Madikizela-Mandela a fruitful day and praised her for her contribution to the liberation struggle.
EFF leader Julius Malema tweeted a youthful picture of himself and Madikizela-Mandela calling her "the first female president of South Africa".
Malema and Madikizela-Mandela have a close relationship that dates back to his time as a young student leader of the Congress of South African Students.
The ANC in Gauteng complimented Madikizela-Mandela for her courage and power.
Limpopo Tourism board chairman Andrew Dipela also weighed in by wishing her a happy birthday.
"She's the rock of our nation. As such we wish our struggle icon well on this special day.
People world over look up to her as an embodiment of the struggle," said Dipela.
For her role as Mother of the Nation, umama Winnie still resides at Orlando, Soweto.
And yes, I still enjoy reading the 491 Days book continuously- Mama Winifred.