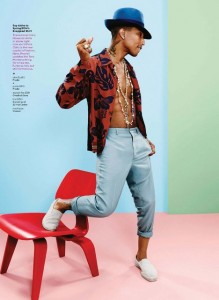 Grammy Award winner, musician, record producer and philanthropist Williams, will visit SA as part of a strategic collaboration with Woolworths SA-first of its kind in mzansi- sees the global superstar and the business align their values and actions to make a difference in the lives of people, and the planet.
Ian Moir, CEO of Woolworths SA, said that the social media response to the collaboration has been unbelievable so far and that they are very excited.
Moir said the collaboration would not have happened if Woolworths' values as a company hadn't aligned with his.
"We just resonated with the guy and he wanted to work with us."
Moir described the need to talk to the youth of South Africa and said the company figured that the youth wouldn't "want to listen to old guys in suits" and would rather hear from someone like Pharrell.
He said that the collaboration was beyond brand growth and attracting new customers.
"This is genuinely about doing the right thing, about bringing to people's attention issues that should be brought to their attention."
Woolworths, in collaboration with Pharrell Williams will be hosting a first of its kind private concert for its WReward customers and one singing group will get the chance to appear on stage with Pharrell and win a cash prizes of R100,000.
To enter schools have to put together a singing group (it does not have to be an official choir) of between 5 and 20 learners, aged between 8 and 18.
They should film the group performing a song of their choice song, load the song on YouTube and send their full entry (along with all their details) to singwithus@woolworths.co.za
Entries close 31 July 2015. Schools must view the full competition rules online at www.woolworths.co.za/areyouwithus<http://www.woolworths.co.za/areyouwithus> (under the Sing With Us section).
Meanwhile, Human rights and Palestine solidarity organisation, BDS South Africa, is adamant American singer-songwriter and rapper Pharrell Williams should stop his partnership with Woolworths until the retailer stops importing products from Israel.
The organisation also called on people in the entertainment industry to take a stand.