Family and friends of both Pistorius and Steenkamp have declined to comment on his release.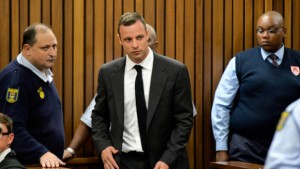 In a letter submitted to the parole board, Steenkamp's parents said: "Incarceration of 10 months for taking a life is simply not enough."
On Monday they said in a statement they still struggled to cope with Reeva's death. She would have been 32 on Wednesday.
While he may be out of jail soon, Pistorius's legal road is not over and his defence team is next month expected to submit their heads of argument.
Should the culpable homicide conviction be overturned, Pistorius would face a minimum sentence of 15 years in jail.
Gerrie Nel, State Prosecutor has indicated that a retrial was not the only option in the Pistorius case, but that the appeal court could directly deal with the matter.
The State has turned to the appeal court as it feels that Judge Masipa erred not to convict Pistorius of murder for shooting dead Steenkamp behind the toilet door in his Pretoria home on Valentine's Day in 2013.
In round one, Pistorius only served 10 months at Kgosi Mampuru II prison, were it was reported he played soccer with notorious Czech fugitive Radovan Krejcir.