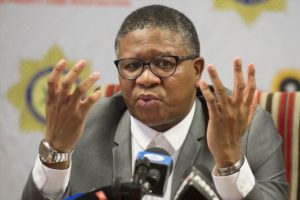 Manana is accused of assaulting a woman in a Johannesburg nightclub at the weekend' and the delay in arresting him attracted criticism on Wednesday from former public protector Thuli Madonsela.
Speaking in Khayelitsha' Cape Town' where he was visiting the family of a young woman allegedly beaten to death by her boyfriend' Mbalula said Manana's "flashy suits" would not save him.
The deputy minister has apologised for hitting Mandisa Duma. He was identified in a video in which he appears to be assaulting a woman at Cubana in Fourways around 3am on Sunday.
Duma' who was with her friend and cousin' claimed Manana chased them out of the venue after her cousin made a comment about his sexuality.
Speaking on the sidelines of a Women's Day event hosted by her foundation in Johannesburg' Madonsela said the incident was symptomatic of a society that was violent in word and deed.
Violence started with dehumanising language and the dehumanising way in which parliamentarians spoke to one another on national television' which had created a "psyche of violence"' she said.
"When people do wrong' they have to be arrested. I have nothing against Minister Manana. On the face of it he is a good kid. He has said he wants to do what is required of him. He would like to be held accountable. [So] the [justice] system must deal with it."