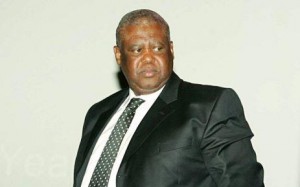 Erstwhile organising committee chairman Irvin Khoza' CEO Danny Jordaan and former South African Football Association president Molefi Oliphant all did not show up as expected and it was Sports Minister Fikile Mbalula who addressed the overflowing room of local and international media.
A curt Mbalula said a decision was taken to limit the number of people who should comment on the swirling allegations.
"In any case' the local organising committee was disbanded years ago'" he said.
Oliphant' in particular' was supposed to be the obvious attraction of the press briefing after it emerged a few days ago that he wrote a letter to Fifa Secretary General Jerome Valcke in 2008 that has since become the centre of the FBI's investigation into alleged corrupt activities at the football governing body.
The letter requested $10 million to be directed to a development project in the Caribbean and it has since been labelled as a bribe that helped secure SA the votes it needed to win the World Cup bid.
The project was supposedly controlled by the now disgraced former Confederation of North' Central America and Caribbean Association Football boss Jack Warner.
Mbalula reiterated SA's stance that they did not bribe anyone and they are still waiting for the US government to use official channels to spell out their allegations.
The Hawks have confirmed they've launched a preliminary investigation into allegations that the South African Football Association (Safa) paid a $10 million bribe to host the 2010 FIFA World Cup.
The Freedom Front Plus has handed over documents believed to contain information on senior Safa officials during the tournament bid.
United States prosecutors and the Federal Bureau of Investigation (FBI) have not yet named the South African officials implicated in the recent bribery allegations.
The Hawks's Hangwani Mulaudzi said this is the first time authorities have been asked to probe the saga.
"We are going to open a preliminary investigation in that regard. That will then determine whether we should have a full-blown investigation or not. This is not a formal investigation, it's just information we have received, which we're going to go through."
Meanwhile, there are calls for Safa President and Nelson Mandela Bay Mayor Danny Jordaan to appear before Parliament's sport portfolio committee, to answer questions about South Africa's alleged involvement in the Fifa bribery scandal.
The Democratic Alliance's sport committee member Solly Malatsi has also questioned why Jordaan or any other 2010 local organising committee members were not present at a press conference called by Sports Minister on Wednesday, where he vehemently denied that South Africa had any part in the Fifa corruptions probe.
The government's insistence that it did not pay a bribe to secure the 2010 World Cup was thrown into turmoil on Wednesday night with the release of former FIFA executive Chuck Blazer's guilty plea to US authorities.
Blazer is the man US authorities are using to blow the lid on decades of what it calls corruption, racketeering and bribery.
Blazer has confirmed he'd agreed to accept bribes for the 2010 WC to take place in South Africa while also revealing he helped arrange bribes for the 1998 World Cup in Brazil.
The unsealing of the 2013 transcript in which Blazer pleaded guilty to 10 charges includes a revelation that brings Mbalula's insistence that a bribe was never paid for the 2010 World Cup sharply back into focus.