Outgoing party spokesperson Zizi Kodwa said the results should be announced by today.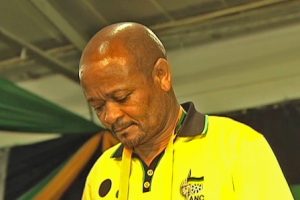 Kodwa confirmed one or two commissions were still outstanding, saying the rest "were in" already.
He said proceedings would not carry on beyond Wednesday.
Voting was delayed due to a dispute over around 60 votes that were not included in the in the final tally for the ANC's top six.
This comes after Senzo Mchunu former KwaZulu-Natal Premier, who lost the election for the position of ANC secretary general by 24 votes to Free State premier Ace Magashule, challenged the final outcome based on information that emerged that the votes in question had not been counted.
While the ANC has not made an official statement regarding the impasse, what is known is that 63 or 68 delegates (still unconfirmed) went to the voting booth with their IDs and accreditation tags to vote for the top six, but their names didn't appear on the voter's roll.
The 63 or 68 delegates were allowed to vote, but their ballots were then kept separately so that the EleXion Agency, who is administrating the election, could check later why their names weren't on the voter's roll.
These ballots were ultimately excluded from the final tally of votes when the results were announced, which means that somewhere a decision was made not to include them.
Mchunu, having lost by such a small margin, then queried this decision with the EleXion Agency and the ANC's electoral commission and a steering committee was appointed to investigate and manage the situation.
Some sources say that Mchunu has threatened with court action, but that a political solution is being sought to allow the voting for the national executive commission (NEC) to go ahead and to avoid a total collapse of the conference.
They are currently negotiating, while voting for the NEC is going ahead.
The new NEC is expected to be announced on Wednesday (today), when the five-day congress comes to an end.
The ANC will hold briefings on the plenary sessions and results of the steering committee on the 63-odd missing votes
Meanwhile, SLM can confirm that some of top ANC seniors turned down the nominations for the NEC.
The reasoning behind turning down the nominations was not given by the likes of Gauteng Premier David Makhura, his fellow Cde MEC for Education Panyaza Lesufi, and others.
Except for Febe Potgieter-Qqubule, who indicated as a board member of the SABC, it will be too much for her.
It has also been brought to our attention that some of the media corps we man-handled at the conference.
Bloomberg reporter Sam Mkokeli was manhandled by security and Police Officers yesterday following a recorded video from Kaya FM's reporter that went viral.
The altercation was sparked after Mkokeli, a Chairperson of the South African National Editors Forum's sub-committee on media freedom, inquired about "what time will the media conference with new ANC President Cyril Ramaphosa take place ?" that got the ire of the guards, threatening to throw him out of the Nasrec complex and subsequently took his accreditation.
Fortunately, his accreditation was restored after an intervention by SANEF and ANC's Information and Publicity Department led by spokesperson Zizi Kodwa and communications manager Khusela Sangoni
In his response Mkokeli said he was happy that he got his accreditation back and will resume with his work. "It was unfortunate what happened as those security guys were neither provoked nor insulted. A mere simple question led to this," he said.
Following this incident' a number of journalists came forward and revealed how they have been abused by security to a point of being threatened and chased out of the venue and also having their accreditation revoked.
"A disabled photographer was pushed yesterday in plenary. He kept telling ANC security he was disabled but they didn't listen and pushed him to the floor because he couldn't move fast enough," said Power FM's Tehilla Niselow.
Sanef chairperson Mahlatse Gallens said they had spoken to the ANC and the security cluster about returning Mkokeli's accreditation as well as about the need to have meetings ahead of such conferences of this magnitude.
"There was an agreement on both sides – the ANC communications' ANC security as well as Sanef – for the need to continue to meet ahead of such big events that they have so that we can look at their plans.
As Sanef' we would like continue to urge the ANC to be transparent in order to allow the free flow of information but also to say to reporters 'let's respect the rules'' as uncomfortable and undesirable as they are'" she said.
We hope the ruling party will address this matter as urgent as possible in future because they wouldn't want to pick a fight with the press. We need each other, finish & klaar